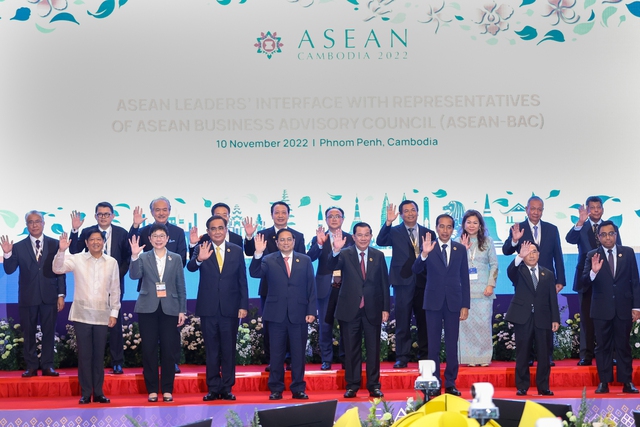 Addressing the ASEAN leaders' interface with representatives of ASEAN Business Advisory Council in Phnom Penh, Cambodia on Thursday, the Vietnamese Government chief emphasized that businesses play a central role in reviving growth in post-COVID period.
In Viet Nam, the economy expanded 8.83 percent in the first nine months this year, in which businesses contributed over 60 percent of the nation's GDP, said Pham.
The Government of Viet Nam has always given high priority to reforming institutions and improving the business environment in favor of all economic components, especially private economic sector, stressed Pham.
In a bid to encourage and enhance businesses' engagement in and contributions to the ASEAN Community building process, Pham called for strengthening dialogue and cooperation in policy making so that policies, once enacted, would be in line with strategic orientations of the member countries and meet aspirations of the region's business circle.
He expressed his belief that the ASEAN business community will continue coming up with new initiatives and concrete actions, together with the Governments of the ASEAN Member States, to surmount challenges in order to build a self-reliant, strong, sustainable, and inclusive ASEAN.
The same day, Prime Minister Pham also attended ASEAN leaders' interface with representatives of ASEAN Inter-Parliamentary Assembly (AIPA).
As planned, the 40th and 41st ASEAN Summits will open in Phnom Penh on November 11, followed by a series of summits between ASEAN and its dialogue partners on November 12-13./.