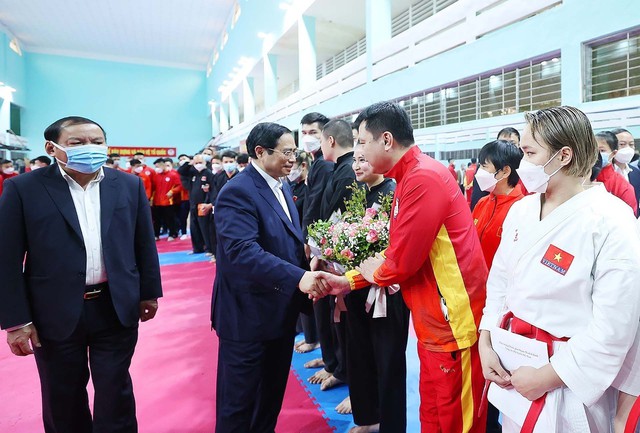 The Government chief praised the athletes and coaches for their effort, hoping that they would uphold the sporting spirit of solidarity, honesty, and nobility, as well as peace-loving, co-operation, and development for both the region and the wider world at the coming event.
On this occasion, Prime Minister Pham inspected SEA Games preparations at the Ha Noi Athletics Palace and My Dinh National Stadium.
The Government leader reminded that the opening ceremony scheduled to take place at My Dinh Stadium on May 12 must represent a highlight of the region's largest sporting event as it needs to showcase the country's historical traditions and cultural identity, whilst also leaving a positive impression in the hearts of international friends.
The SEA Games 31 is slated for May 12-23 in Ha Noi and 11 neighboring localities. The event will see approximately 10,000 athletes and coaches from across Southeast Asia compete in 40 sports. This will mark the second time that the capital has hosted the SEA Games since 2003.
Deputy Prime Minister Vu Duc Dam was tasked to direct preparations for the upcoming SEA Games 31./.