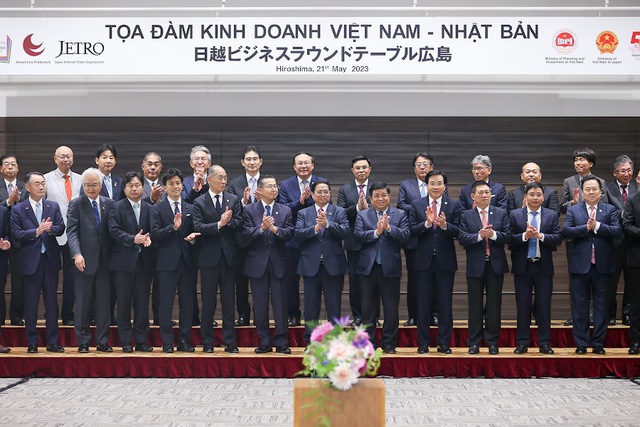 The event was jointly held by the Ministry of Planning and Investment and Vietnamese Embassy in Japan in collaboration with the Japan External Trade Organization (JETRO) and Hiroshima Prefecture administration.

Addressing the event, Prime Minister Phamm congratulated Hiroshima Prefecture for successfully hosting the G7 summit and outreach meetings.
Pham recalled his impressions about the will, energy, solidarity and high determination of Japanese people in overcoming dire war consequences after visiting the Hiroshima Peace Memorial Park.
Having undergone years of wars, Viet Nam deeply understands the values of peace, thus the country wishes to contribute as much as possible for the success of the G7 outreach meetings, Pham said.
Regarding Viet Nam-Japan relations founded 50 years ago, Prime Minister Pham expressed his pleasure at the ceaseless advancement of cooperation across fields.
He said the relationship is now at the best stage, with Japan being the biggest ODA provider, the second largest manpower importer, the third biggest tourist source market, and the fourth largest trading partner of Viet Nam.
The Vietnamese community in Japan has reached nearly two million people, becoming the second largest expat community in the Northeast Asian nation.
On investment, Japan has more than 5,000 active projects capitalized at US$70 billion, ranking third among 143 countries and territories investing in Viet Nam. Meanwhile, Viet Nam has poured about US$19.5 million in 106 active projects in Japan.
The two-way trade rose to nearly US$50 billion in 2022, making Japan the fourth trading partner of Viet Nam.
He took the occasion to highlight that the world is facing critical headwinds, notably, high inflation, sluggish growth, prolonged Covid-19 pandemic, food and energy crisis, fiercer competition among major powers, and speedy climate change.
Given the context, Viet Nam remains persistent with its development and foreign policy lines, and is striving to build an independent and self-reliant economy and realize three strategic breakthroughs of institutions, infrastructure development, and human resource development.
Throughout its development course, the Government of Viet Nam has always been attentive to recommendations in order to timely and effectively fix shortcomings and arising issues to facilitate business operations, Pham said.
He called on Japanese investors to strengthen investment in a range of areas such as supporting industry, electronics, electric car production, science and technology, innovation, research and development, green economy, digital economy, circular economy, knowledge economy, semiconductor manufacturing, new energy (including hydrogen), renewable energy, smart industrial park development.
On the occasion, Prime Minister Pham thanked Japanese businesses for having sustained and expanded investments in Viet Nam despite facing numerous difficulties caused by the Covid-19 pandemic./.