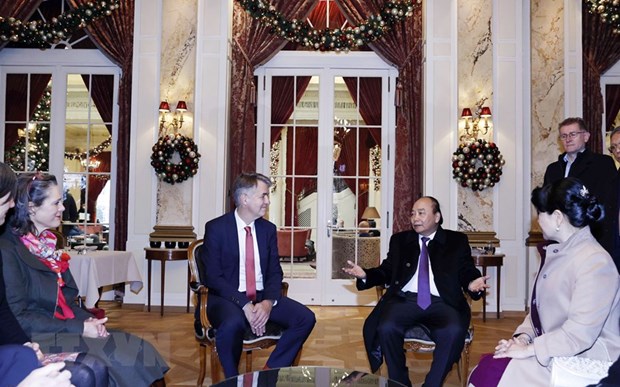 President Nguyen Xuan Phuc (R) meets Mayor of Bern Alec Von Graffenried, Bern, Switzerland, November 27, 2021 - Photo: VNA
During the meeting with the Mayor of Bern, Nguyen proposed authorities of Bern and Ha Noi cities to further strengthen their cooperation, especially in urban management.
The Vietnamese leader suggested Bern city's authorities to cooperate with 12 Vietnamese localities, which boast UNESCO-recognized world cultural heritages, in preserving and upholding cultural values, as well as promoting these heritages in Switzerland so that attracting more tourists from Switzerland and other European countries to Viet Nam.
The President emphasized that creating conditions for the two countries' people to understand more about each other is a sustainable foundation for the relations between the two countries.
For his part, Graffenried stated that the city's authorities will continue to work with their Ha Noi counterparts to further strengthen their long-standing cooperation.
Meanwhile, at the meetings between the Vietnamese President and former Swiss President and Honorary Consul of Viet Nam in Switzerland, both Ammann and Roesler highly valued Viet Nam's achievements in socio-economic development and international integration in recent years, which have helped Viet Nam confirm its role and position in the region and the world.
The President thanked Ammann for his sentiments and support for the development of Viet Nam-Switzerland ties in his capacity as Swiss President and Minister for Economic Affairs.
The Vietnamese leader expressed his hope that Ammann will further support the enhancement of the bilateral ties, especially in priority economic and trade areas.
Nguyen congratulated Roesler on his appointment as Viet Nam's first Honorary Consul in Switzerland, and lauded his efforts in promoting German and Swiss investments in Viet Nam.
Roesler pledged to try his best to enhance relations between Viet Nam and European partners and Switzerland in particular.
The Vietnamese President suggested Ammann and Roesler actively support the early conclusion of the talks and signing of a free trade agreement between Viet Nam and the European Free Trade Association (EFTA) to create momentum for the Viet Nam-Switzerland economic cooperation, especially in the context that the two countries are prioritizing the enhancement of economic-trade ties to recover their economies post COVID-19.
Both Ammann and Roesler pledged to contribute to speeding up the negotiations and strengthening the bilateral economic links.
By Hoang Ha