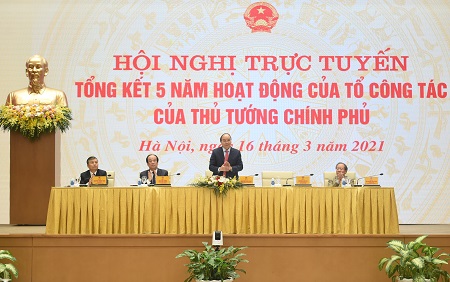 Prime Minister Nguyen Xuan Phuc speaks at the event
Dung, who heads the PM's Working Group, made the statement at a video conference reviewing the group's five-year operations in Ha Noi on March 16.
The event was chaired by PM Nguyen Xuan Phuc, and attracted the participation of representatives from relevant ministries and agencies.
At the first meeting of the Government's 2016-2021 term on August 1, 2016, PM Phuc requested ministries and agencies to frankly acknowledge inadequacies, shortcomings, and limitations in the industries and fields within their management scope.
From the practical requirements and on the basis of the provisions of the Law on Government Organization and the Government's working regulations, on August 19, 2016, the PM signed Decision No. 1642/QD-TTg on the establishment of the PM's Working Group with the function of urging and examining the implementation of the PM and Government's conclusions, directions, and tasks assigned to ministries, sectors and localities.
According to Dung, through inspections, the PM's views and directions have been thoroughly grasped and urgently implemented, while solutions have been worked out to turn the PM and Government's directions into specific results in reality.
In addition, many difficulties and obstacles concerning policies and mechanisms, many legal gaps, as well as a number of shortcomings and inadequacies in issues of public concern related to the direction and administration work of ministries, agencies and localities, have been promptly detected, rectified and addressed.
From the direction of the Government and the PM, as many as 87 laws, decrees and circulars on specialized inspection and business conditions have been reviewed, amended, supplemented, and replaced so far.
As a result, 3,893 out of 6,191 business conditions and 6,776 out of 9,926 lists of goods subject to specialized inspection have been cut, while overlaps in 1,501 commodities subject to specialized inspection have been handled by ministries and agencies.
These reductions have saved more than 18 million working days / year, or over VND6.3 trillion (US$273.25 million) / year, for society, people and businesses.
By Vien Nhu