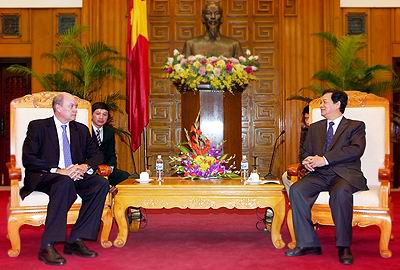 PM Nguyễn Tấn Dũng and Cuban Minister of Foreign Trade and Foreign Investment Rodrigo Malmierca Diaz, Hà Nội, October 7, 2011 - Photo: VGP
The Government chief applauded the achievements gained by the Cuban people, especially in agriculture and affirmed Việt Nam's consistent support for Cuba's revolutionary course.
The PM said he hoped the bilateral traditional friendship and special solidarity would be further promoted.
Praising the outcome of the Intergovernmental Committee meeting earlier the same day between Minister Rodrigo Malmierca Diaz and Vietnamese Minister of Construction Trịnh Đình Dũng, PM Dũng also urged the two sides to strengthen cooperation in economy, trade and investment.
He asked the Cuban side to continue creating favorable conditions for Vietnamese investors to do business in Cuba and encouraged Cuban enterprises to pour investment in Việt Nam.
Both countries should work together to further raise two way trade value, which stood at US $250 million last year.
PM Dũng reiterated that he would ask the Ministry of Agriculture and Rural Development to speed up the implementation of the two countries' joint agricultural cooperation program.
During his stay in Việt Nam, Minister Rodrigo Malmierca Diaz had working sessions with the Vietnamese Ministry of Agriculture and Rural Development, the Ministry of Foreign Affairs and the Ministry of Health, during which both sides agreed on a wide range of cooperative areas.
The Cuban Minister said he hoped that Việt Nam would provide stronger support for Cuba in agriculture and food security.
He also said Cuba is ready to share with Việt Nam its experience on developing pharmacy industry and biology technologies.
By Hải Minh