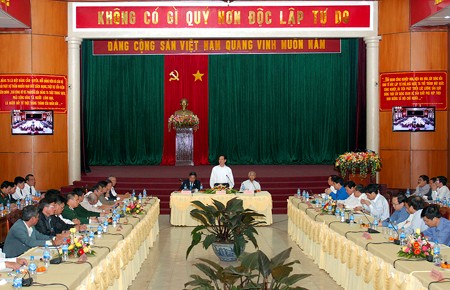 Photo: VGP/ Nhat Bac
PM Dung held a working session with Gia Lai's authorities during his visit to the locality on January 6.
In 2013, the province maintained a growth rate of 12.3% and a Gross Domestic Product (GDP) VND30.23 million, up 15.6% compared to 2012.
Currently, all communes have had their new rural area building master plans till 2020 approved.
Poor households in the province were reduced by 2.7% in 2013, leaving the percentage of those living under the poverty line at 17.23%.
In 2014, Gia Lai Province will maintain an economic growth rate of 12.5%, increase total social investment by 15.9%, drive export turnover up 15.38%, create jobs for 24,000 laborers and reduce poor households by 2.5%.
The PM said the province will work to overcome difficulties, scale up production and issue policies to attract more investment to spur its socio-economic development.
The province needs to push up the agricultural restructuring in accordance with the building of new style rural areas, improve local people's lives, develop healthcare services, culture and education as well as speed up the administrative reform.
By Thuy Dung