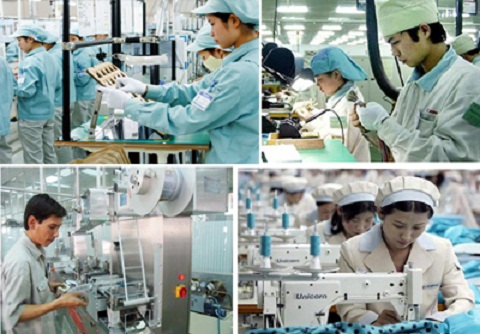 Illustration photo
The enforcement of Resolution 35/NQ-CP and Directive 26/CT-TTg showed shortcomings and lacked of synchronous regulations among the Laws on environmental protection, land, bidding; overlapping investigations; and difficult access to resources (including capital, land, natural resources, mining).
To accelerate the implementation of Resolution 35 and Directive 26, the PM tasked ministries, agencies, and localities to drastically realize their assigned tasks.
The Ministry of Planning and Investment was asked to effectively hold training courses to support SMEs to improve their administrative competence; financial transparency; and better capabilities for ministerial, local, and association staffs in favor of SMEs.
Resolution 78/2015/ND-CP, dated September 14, 2015 will be reviewed and amended in order to cut business start-up costs.
Removing tax obstacles
The Ministry of Finance (MoF) was urged to build and submit bills on law amendments; extricate business obstacles in tax; tighten tax management; propose tax collection in favor of SMEs.
The MoF was assigned to compose a decree on invoices, electronic vouchers; connect information on retail revenue management of household businesses; pilot the program in Ha Noi and HCMC in 2018.
The Ministry of Natural Resources and Environment was instructed to review, assess, and propose regulations on land reclamation, site clearance, land allocation, and land access for SMEs.
Assisting scientific renovation
The Ministry of Science and Technology was urged to support businesses to renovate technology and scientific application via implementation of the national program on science and technology; promote the Program on intellectual property development in 2016-2020.
The Ministry of Education and Training was assigned to cut administrative procedures in granting investment licenses in the educational sector.
Setting hotlines for businesses
The People's Committees of HCMC, Binh Duong, Binh Dinh, Binh Thuan, Cao Bang, Hai Phong, Dak Lak, Long An, Nam Dinh, and Tra Vinh were directed to early set up hotlines to receive and resolve business obstacles.
Ministries, agencies, and localities were asked to improve dialogues with the business community; definitely resolve business obstacles.
The Viet Nam Chamber of Commerce and Industry was assigned to launched the campaign "Vietnamese products conquer Vietnamese people" and encourage domestic businesses to say no to negative manifestation./.
By Kim Anh