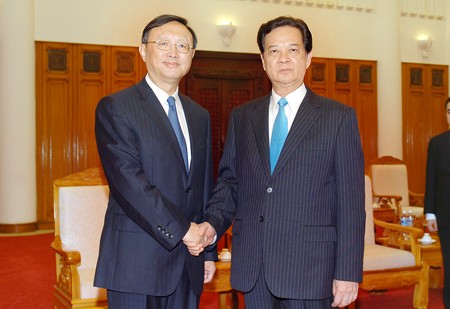 PM Nguyen Tan Dung and Chinese State Councilor Yang Jiechi, Ha Noi, June 18, 2014 - Photo: VGP
PM Dung said that China's installation of the oil rig deep inside Viet Nam's waters seriously violates Viet Nam's sovereignty, the two countries' high-level agreements, international law, including the 1982 UN Convention on the Law of the Sea and the Declaration on the Conduct of Parties in the East Sea; threatens peace, stability, security and safety of navigation and aviation in the region, the Vietnamese PM stressed.
China's move also sparks public resentment among and hurts the sentiments of the Vietnamese people, adversely affects the cooperative relations between the two Parties and States.
PM Dung demanded China immediately withdraw the oil rig and escort ships from Viet Nam's waters and work with Viet Nam to settle divergences between the two countries through peaceful measures in accordance with international law and their high-ranking leaders' common awareness.
He also urged the two sides to control the situation to avoid conflicts and continue maintaining contacts and negotiations to resolve the current divergences.
At the reception, PM Dung also showed gratitude to China's great assistance for Viet Nam, affirming that Viet Nam attaches importance to enhancing the comprehensive and equitable cooperative relations between the two countries.
Regarding the safety for Chinese enterprises and nationals, PM Dung said that some individuals took advantage of protests against China's illegal placement of the oil rig in Viet Nam's waters to violate laws by causing damages to foreign businesses, including those from China. PM Dung affirmed that the Vietnamese Government quickly stopped the legal infringements and punished law-breakers while adopting timely measures to support the affected businesses. Now, all the affected businesses have resumed their normal operation.
PM Dung asked the two countries to continue maintaining the current cooperation mechanisms and soon organize the 7th meeting of the steering committee for bilateral cooperation to discuss specific measures to boost the relations between the two countries.
For his part, Chinese State Councilor Yang Jiechi briefed the host about the outcomes of his talks with Deputy PM, FM Pham Binh Minh on the same day.
Yang said both sides need to continue dialogue channels to address the current tension and accelerate bilateral cooperation./.
By Quang Minh