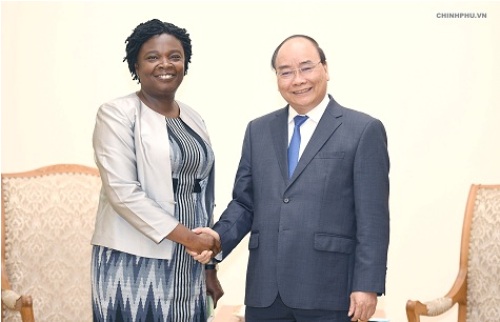 PM Nguyen Xuan Phuc receives Vice President at the World Bank for East Asia and the Pacific Victoria Kwakwa, Ha Noi, September 11, 2018 - Photo: VGP/Quang Hieu
PM Nguyen Xuan Phuc made that statement on September 11 at his reception for Vice President at the World Bank for East Asia and the Pacific Victoria Kwakwa who is visiting Viet Nam to attend the World Economic Forum on ASEAN 2018 (WEF ASEAN).
The Vietnamese Government advocates the WB's policy to increase loans with the aim of providing long-term financial resources for member countries, he said, expressing thanks to the WB and Ms. Victoria Kwakwa for mobilizing funds for Viet Nam.
The PM suggested the WB supply non-refundable aid focusing on the institutional reform, the completion of legal framework and the restructuring the economy as well as join hands with other sponsors such as the Asian Development Bank and the Asian Infrastructure Investment Bank (AIIB) for further support for Viet Nam.
The host thanked the WB in Viet Nam for their assistance for the Vietnamese Government and Government Office in establishing an e-Government, adding that at the opening ceremony of the e-Government Committee, the PM will attend the signing ceremony of the cooperative framework between the WB in Viet Nam and the Government Office.
Ms. Kwakwa hailed Viet Nam's achievements in economic development and higher status of the nation in the region and the world, supposing that the nation will reach the economic growth of 6.8% this year.
She suggested Viet Nam continues monitoring macro-economy effectively and controlling inflation to attract more investment in the coming time.
By Thuy Dung