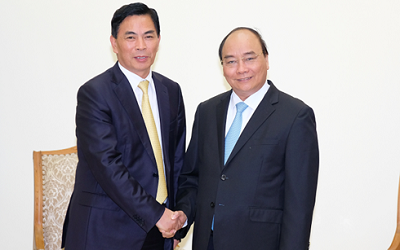 Prime Minister Nguyen Xuan Phuc receives Shen Tianqing, President of Hong Kong's Jiayuan International Group, Ha Noi, December 7, 2017
At the reception, Jiayuan's President Shen Tianqing said his group desires to expand its investment in Southeast Asia, especially in Viet Nam, in major projects on real estate for smart cities.
The group wants to invest in Ha Noi's infrastructure development, calling for support from the Vietnamese government, the Prime Minister and relevant ministries and sectors, he told his host.
In turn, Prime Minister Nguyen Xuan Phuc said the Vietnamese government is ready to create the most favorable conditions for Chinese businesses to operate in Viet Nam.
Phuc extolled the group's investment in Viet Nam, urging it to get involved in the equitisation process of Vietnamese State-owned businesses. He underscored that China and Viet Nam are strategic partners and Hong Kong (China) is one of Viet Nam's important partners and markets, noting that both sides enjoy numerous advantages to develop ties further in future.
Along with the flourishing Viet Nam-China strategic cooperative partnership, mutually beneficial cooperation between Viet Nam and Hong Kong will steadily progress in economics, trade and investment, PM Phuc affirmed.
By Vien Nhu