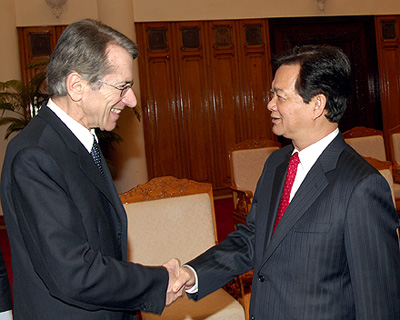 PM Nguyễn Tấn Dũng (R) and Italian Foreign Minister Giulio Terzidi Sant'Agata, Hà Nội, February 29, 2012 – Photo: VGP/Nhật Bắc
Receiving the Italian FM, the PM said that recent positive developments in the Việt Nam-Italy ties have brought practical contributions to each country.
PM Dũng hoped that Italy would continue to provide ODA for Việt Nam, especially in the field of human resource development.
The Vietnamese Government always welcomes Italian investors to do long-term and fruitful business in Vietnam, said the host leader.
For his part, Mr. Giulio Terzidi Sant'Agata said that Italy regards Việt Nam as one of its significant partners in Asia and pledges to do its utmost to elevate the bilateral ties to a new height.
Italy would prioritize economic, trade and investment linkages with Việt Nam and strive for higher two-way trade volumes in the coming time, said Minister Giulio Terzidi Sant'Agata.
The guest leader also expressed desires to broaden the bilateral ties to other aspects like education, tourism and culture and enhance coopeartion with other Asian countries via Việt Nam.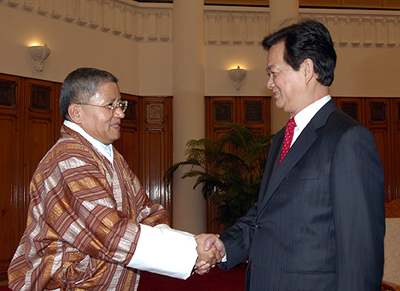 PM Nguyễn Tấn Dũng (R) and Special Envoy of the Prime Minister of the Royal Government of Bhutan Lyonpo Kinzang Dorji, Hà Nội, February 29, 2012 – Photo: VGP/Nhật Bắc
Việt Nam hopes to be a confident and responsible friend and partner in the international community to work with other countries to promote respective benefits and mutual developments for peace, stability and development, PM Dũng said at his meeting with the Bhutanese special envoy.
Việt Nam is delighted to officially establish diplomatic ties with Bhutan and hopes to cement and deepen the cooperation in a multifaceted manner, he added.
Mr. Lyonpo Kinzang Dorji said that Bhutan always attaches importance to the relations with Việt Nam and hopes to strengthen the bilateral ties in economics, tourism and culture./.
By Kim Anh