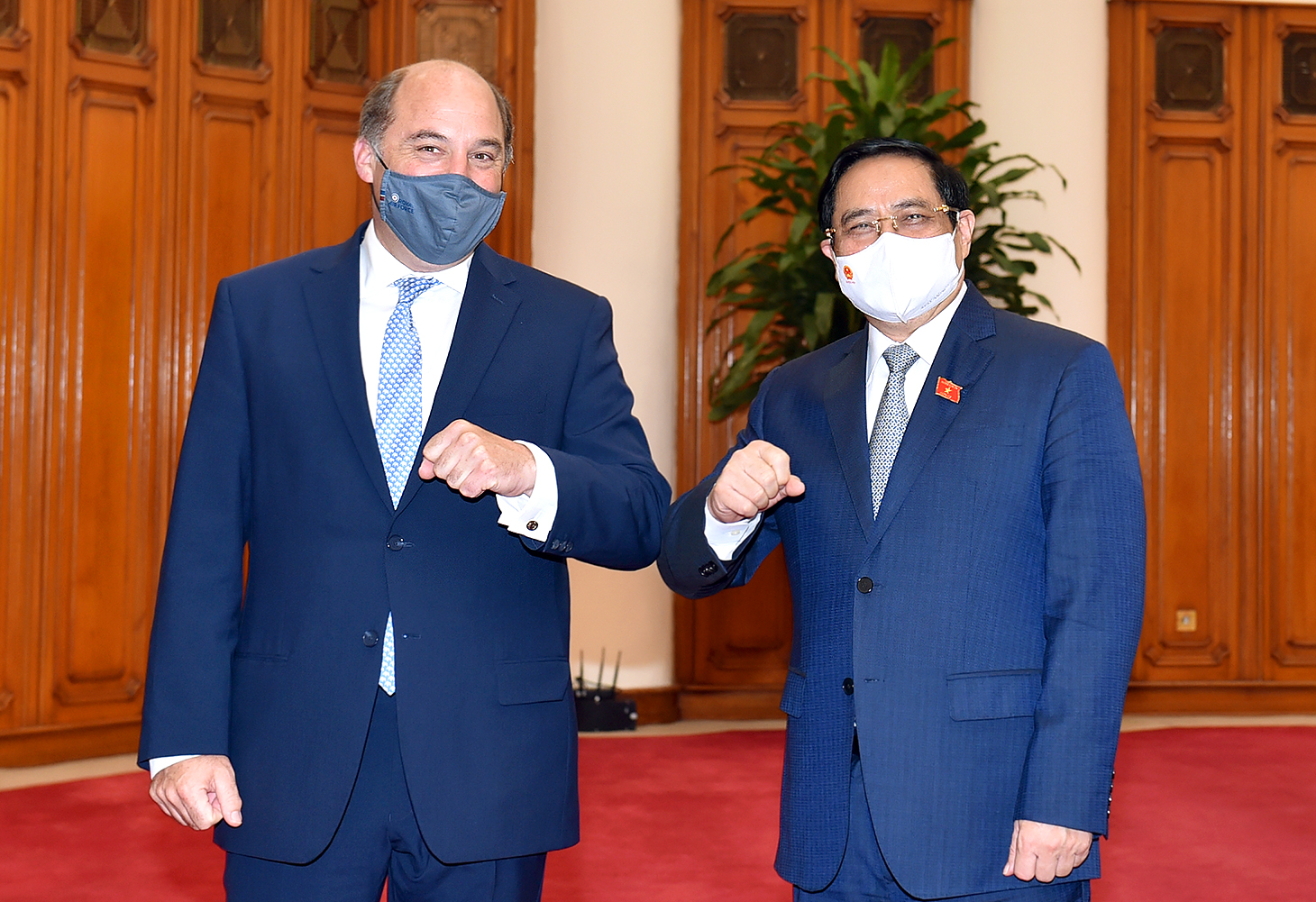 Prime Minister Pham Minh Chinh (R) hosts a reception for British Secretary of State for Defense Robert Ben Lobban Wallace, Ha Noi, July 22, 2021 - Photo: VGP
At the reception, Pham welcomed and spoke highly the first official visit of a British Secretary of State for Defense to Viet Nam, saying it is a vivid evidence of the goodwill to promote friendship and cooperation for mutual interests between the two ministries, armies and people, contributing to deepening the Viet Nam-UK strategic partnership.
He spoke highly of the strong developments in the Viet Nam-UK relations across the spheres of politics, economics, defense, security and sustainable development, suggesting the UK enhance effective implementation of the UK-Viet Nam Free Trade Agreement, encourage British enterprises to invest in Viet Nam and facilitate Vietnamese exports to the UK.
On defense cooperation, he asked the two sides to continue consolidating and reinforcing cooperative ties between the two ministries and armies on both bilateral and multilateral aspects.
The Government chief emphasized the need to effectively implement defense cooperation agreements, thus making contributions to promoting the Viet Nam-UK strategic partnership as well as peace and stability in the region and the world.
Pham suggested the British Government continue assisting Viet Nam in acquiring more COVID-19 vaccines, including via the COVAX Facility and considers transfer of vaccine production technology to Viet Nam soon.
He expressed his belief that the 26th UN Climate Change Conference of the Parties (COP26) slated for next November will help enhance global efforts in climate change adaption, affirming that Viet Nam is willing to closely coordinate with the UK and other partners for successful organization of the event.
Wallace affirmed that the UK attaches importance to the strategic partnership with Viet Nam and highly values Viet Nam's contributions to the region and the world.
The British Ministry of Defense is willing to work closely with the Vietnamese defense ministry in strengthening mutual trust and bilateral cooperation as well as coordination at multi-lateral frameworks, including the UN-led peacekeeping missions, he noted.
The two sides underscored the importance of ensuring order, security, maritime safety and freedom, settling disputes via peaceful measures in line with international law, including the 1982 UN Convention on the Law of the Sea, contributing to maintaining peace, stability, cooperation and development in the region and the world.
By Thuy Dung