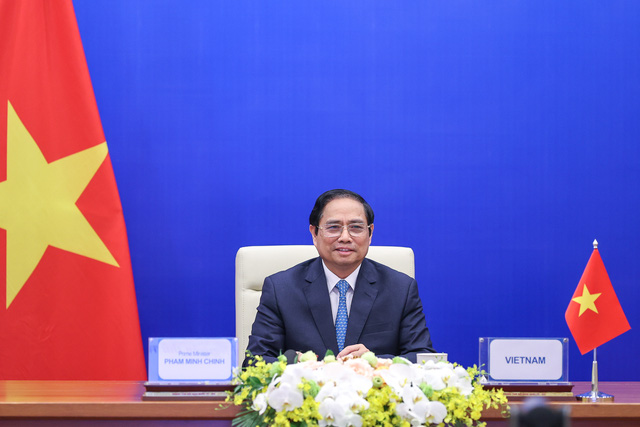 Special attention should be given to the implementation of the United Nations Sustainable Development Goals 2030, the Paris Agreement and the commitments reached at the 2021 United Nations Climate Change Conference (COP26), and the Sendai Framework for Disaster Risk Reduction 2015-2030, Pham emphasized.

The Government chief urged Japan and other developed countries to share experience with and assist developing countries with finance, technology, governance, human resource training, basic investigation, management and use of water resources.
Pham also called for strengthening cooperation and support the operation of organizations and mechanisms on transboundary river basin management including the Mekong River Commission.
He emphasized the need to focus on promoting comprehensive solutions such as digital transformation, participation of businesses and people, public-private partnership, and smart governance.
For Viet Nam, water has been identified as the strategic national resource that needs to be managed and used appropriately, safely and effectively in order to promote green, circular and sustainable development, Pham said.
He reiterated that Viet Nam will strive to ensure harmony and rationality between economic growth, environmental protection and climate change adaptation.
Over the past time, Viet Nam has actively participated in and contributed to the multi-layered efforts of the international community, especially countries like Laos, Cambodia, China and other international partners to manage, develop, protect and use water resources from rivers in a sustainable, efficient and mutually-beneficial manner.
Pham took the occasion to thank international partners, including Japan, for their valuable assistance, expressing his wish to continue receiving more support and cooperation from countries, international organizations, and business communities.
The 4th APWS, held in Kumamoto City, Japan, from April 23-24, draws high-level delegates including heads of states and representatives from international organizations in the Asia-Pacific region.
The summit will discuss various water-related issues and share with the world the long-standing efforts of the host city, Kumamoto, in conserving groundwater as well as its recovering efforts from the 2016 Kumamoto Earthquakes./.