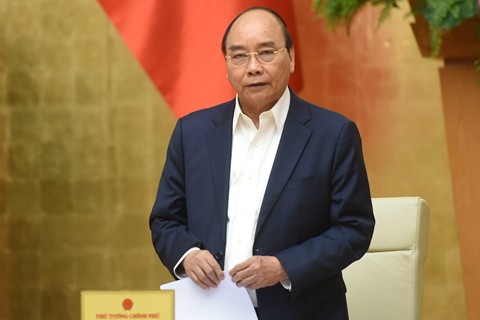 Prime Minister Nguyen Xuan Phuc presides over a meeting on COVID-19 response, Ha Noi, March 17, 2021 - Photo: VGP/Quang Hieu
Speaking at a meeting on Wednesday, the Government chief said prompt and unprecedented measures have been deployed to contain spread of the third wave of COVID-19.
However, the fight against the pandemic is not over, thus the nation must continue staying vigilant as many new variants have been detected around the world, including ASEAN member countries, said PM Phuc.
He also reaffirmed the Government's resolve to continue pursuing the dual goal of pandemic management and economic recovery, adding that it is a really difficult task that requires wisdom and timely actions.
Phuc called for another package to support businesses and people affected by the COVID-19 pandemic as many of them are still suffering from critical difficulties, especially those working in the tourism sector.
He ordered the Ministry of Health to administer COVID-19 vaccines to right frontliners in a safe maner before getting all people vaccinated while speeding up research and development of homegrown vaccines to put into use no later than 2022.
The Ministry of National Defense was tasked to strengthen borders inspection to prevent illegal entry and coordinate with relevant agencies to strictly handle illegal entrants.
As of 6:05 on Tuesday, Viet Nam confirmed 2,560 COVID-19 infection cases, including 2,158 recoveries and 35 deaths./.
By Thuy Dung