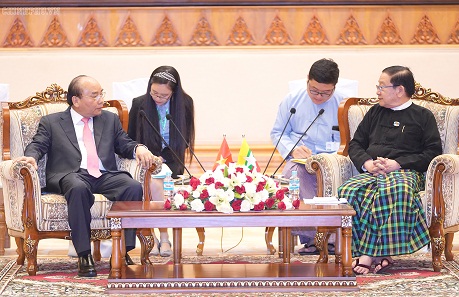 Prime Minister Nguyen Xuan Phuc meets with Speaker of Myanmar's Parliament T Khun Myat. Photo: VGP
During their meeting in Nay Pyi Taw on December 17, PM Phuc informed the Speaker of Myanmar's Parliament, T Khun Myat, of the outcomes of his meeting with Myanmar President U Win Myint and his talks with Myanmar State Counsellor Aung San Suu Kyi.
He proposed that the legislative bodies of Viet Nam and Myanmar actively coordinate in supervising the implementation of the agreements signed between the two countries, including an action program on the implementation of the Viet Nam-Myanmar comprehensive cooperative partnership for 2019-2024, while supporting mechanisms, policies and laws aiming to accelerate bilateral trade and investment cooperation.
For his part, Speaker of Myanmar's Union Parliament T Khun Myat highly appreciated the achievements Viet Nam has obtained over recent times, stating that as a country in the renovation process, Myanmar wishes to learn from Viet Nam's experience in economic development.
The host expressed his pleasure at the increasingly consolidated friendship and cooperation, the vibrant exchange of high-level delegations, and the close coordination between the two countries at multilateral and regional parliamentary forums, especially within the framework of the Inter-Parliamentary Union (IPU) and the ASEAN Inter-Parliamentary Assembly (AIPA).
He also thanked Viet Nam for constantly supporting Myanmar at international forums, including the United Nations, ASEAN and AIPA./.
By Vien Nhu