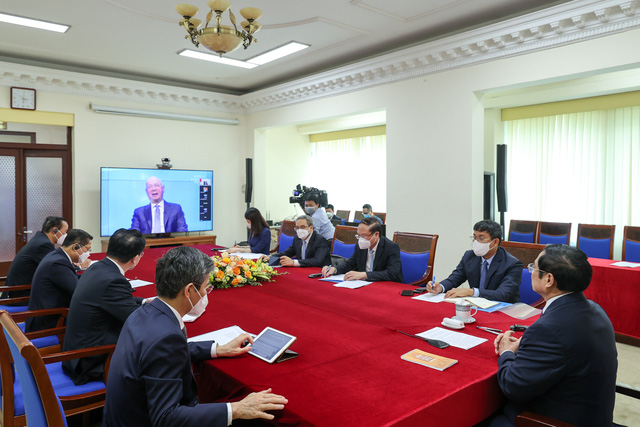 Both sides discussed global trends and challenges, measures to enhance economic recovery, green growth and sustainable development as well as orientations in Viet Nam-WEF relations in the time ahead.
They underscored the significance of multilateralism, international cooperation, global approach and coordination in dealing with global issues, including COVID-19, climate change, food security and resumption of global supply chain.
Viet Nam is building an independent and resilient economy and promoting effective, comprehensive and intensive international integration, emphasized Pham, adding that the country will certainly not sacrifice social progress and equality in pursuit of mere economic growth.
He suggested the WEF continue collaborating and supporting Viet Nam in improving institutions, renewing growth model, and restructuring the national economy in a green and sustainable manner, fostering digital transformation and improving the quality of human resource.
Pham recommended the WEF connect Viet Nam with prestigious global investment funds and corporations and help the country attract more investment capital and finance from members of the WEF in such fields as high technology, energy conservation, digital transformation and infrastructure development.
For his part, Schwab said he was impressed with the outcomes of Viet Nam's COVID-19 management and economic recovery in 2021, adding that the country's shift to a safe and flexible adaptation to the COVID-19 pandemic is a timely and right decision.
The WEF commits to coordinating with Viet Nam in realizing its socio-economic development goals, said Schwab, suggesting both sides ink a Partnership Agreement to create a cooperation framework for the future.
The WEF is preparing for its annual meeting themed 'History at a Turning Point: Government Policies and Business Strategies', from May 22-26 in Davos, Switzerland, Schwab told Pham.
He invited the Vietnamese PM to attend and deliver a speech at the meeting, underlining that the participation of Viet Nam, other countries, international organizations and corporation will greatly contribute to the formation of strategic initiatives, policies and strategies of the global community.
PM Pham said that Viet Nam will send a delegation to the event.
He also took the occasion to invite Klaus Schwab to pay a visit to Viet Nam and the latter gladly accepted the invitation./.