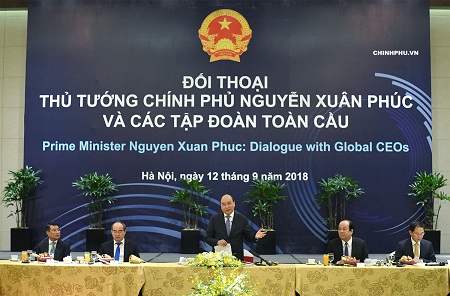 Photo: VGP
The event saw the presence of the leaders from Vietnamese ministries and localities, a number of global groups such as Standard Chartered, Google, Facebook, Apple, Bloomberg, GE, Hitachi, Temasek, and ThaiBev, and some leading Vietnamese corporations.
The leaders of global groups expressed their pleasure to attend the WEF ASEAN 2018 in Viet Nam, while highly appreciating and voicing their belief in the Vietnamese Government's efforts in renovating the business climate and regulating the macroeconomy. In that spirit, the global groups pledged to stand by the Vietnamese Government in its big policies, such as the building of an e-Government and the development of a digital economy.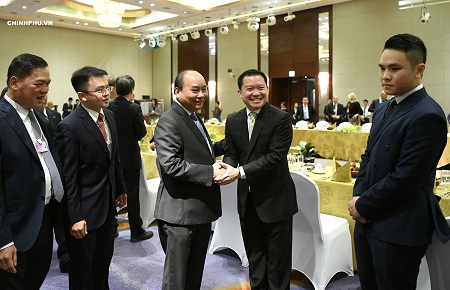 Photo: VGP
Judy Hsu, CEO of ASEAN and South Asian markets, Standard Chartered Bank, stated that the bank has been in Viet Nam for 15 years, and vows to continue facilitating strong cooperation in Viet Nam, especially as the State Bank of Viet Nam recently approved Standard Chartered'sopening of its fourth branch in Ho Chi Minh City last year, thus increasing the total number of its employees in Viet Nam to 1,500.
Simon Milner, Facebook's vice-president of public policy for Asia-Pacific, pledged his firm's long-term presence in Viet Nam, expressing his wish to participate in the Government's vision about a digital nation, with commitments to joining the four areas of digital citizenship, digital economy, digital government and digital connection. The Facebook official also vowed to accompany Vietnamese businesses, especially via cooperation with small and medium-sized enterprises and startups.
Photo: VGP
Meanwhile, the leader of the Thai Beverage Public Company Limited (ThaiBev), said the group invested roughly US$5 billion to buy Sabeco's shares last year, while pledging to develop the Sabeco brand and advertise Vietnamese culture globally.
Welcoming the leaders of global groups to the WEF ASEAN 2018, PM Nguyen Xuan Phuc affirmed that the Vietnamese Government always values investors and is striving to further improve the business climate, thus helping the investors do effective business in Viet Nam.
By Vien Nhu