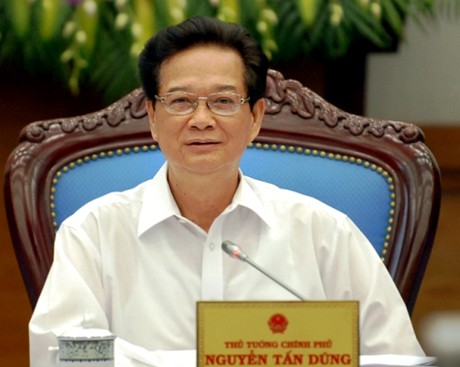 Photo: VGP
PM Dung has made this statement during the Government's September regular meeting which was convened in Ha Noi on September 29-30.
He gave an example of the Duc Giang Chemical Corporation, which has grown strongly with further investment in six more chemical plants, bringing trillions of dongs after being equitized.
PM Dung asked relevant ministries to approve equitization plans to valued businesses as soon as possible while boosting equitization among businesses in which the State does not need to hold dominant shares.
According to the Steering Committee on Renovating and Developing Enterprises, by the end of September, 92 businesses have been restructured, in which 71 have been equitized, two have been dissolved, one has been sold, 15 has been merged and three has been proposed for insolvency.
The State-owned enterprises have divested themselves from the investment which is not related to their fields with an amount of VND3.5 trillion ($164 million), 3.6 times higher than that in 2013. The divested capital of 2013 and the first nine months of 2014 reached VND4,453 billion ($209 million) in the total VND21 trillion investment which is not related to the businesses' fields.
In August and September, several corporations successfully auctioned of their shares to the public for the first time and sold the shares to strategic investors. The Viet Nam National Textile and Garment Group sold 90 percent of its shares while the Tan Son Nhat Trade and Service Company and the Thang Long Construction Group had their shares auctioned at doubled prices compared to the starting prices.

Difficulties and hindrances in the equitization have generally lifted. As a result, around 200 businesses are expected to have approved equitization plans.
By Vien Nhu