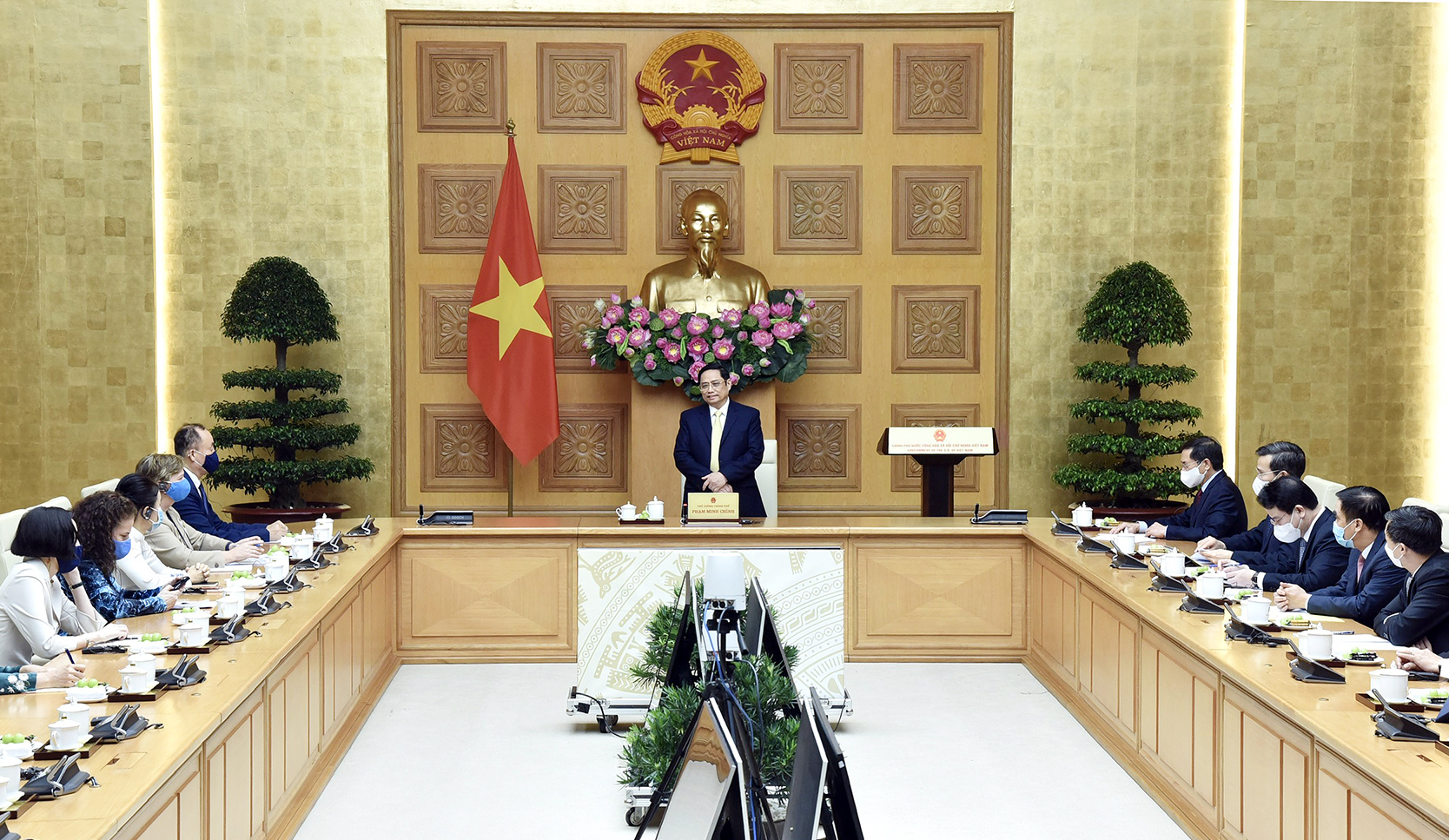 Prime Minister Pham Minh Chinh hosts a reception for UN acting Resident Coordinator Kidong Park and heads of UN agencies in Viet Nam on the occasion of the UN Day, Government Office, Ha Noi, October 21, 2021. Photo: VGP
During reception for acting Resident Coordinator Kidong Park and heads of UN agencies on Thursday, the Government asked Park to convey his greetings to UN Secretary-General António Guterres and all UN personnel around the world on this special occasion.
He affirmed Viet Nam appreciates the achievements that the United Nations has gained since its inception, saying that the UN is playing a really important role in preventing conflicts, upholding international law, fostering sustainable development and protecting and promoting human rights.
Pham especially praised the United Nations for its efforts in helping the member countries to cope with great challenges posed by the COVID-19 pandemic.
The PM emphasized that Viet Nam always treasures the UN's valuable support for the country over the past more than four decades.
He thanked the UN for its commitment to deliver 38.9 million COVID-19 vaccine doses through the COVAX Facility to Viet Nam this year, of which 18 million doses arrived in the country.
Regarding future cooperation orientations, PM Pham suggested the UN agencies would play a role in accelerating the delivery of committed vaccines and help Viet Nam adapt safely to the COVID-19 pandemic, reboot economic recovery, and transform its growth model.
Heads of the UN agencies in Viet Nam spoke highly of Viet Nam's role and position as well as its contributions at the UN Security Council and other UN-led mechanisms and forums, thus contributing to consolidation and promotion of peace, stability, cooperation and development in the region and the world.
They pledged to continue assistance for Viet Nam in its national development efforts./.
By Thuy Dung