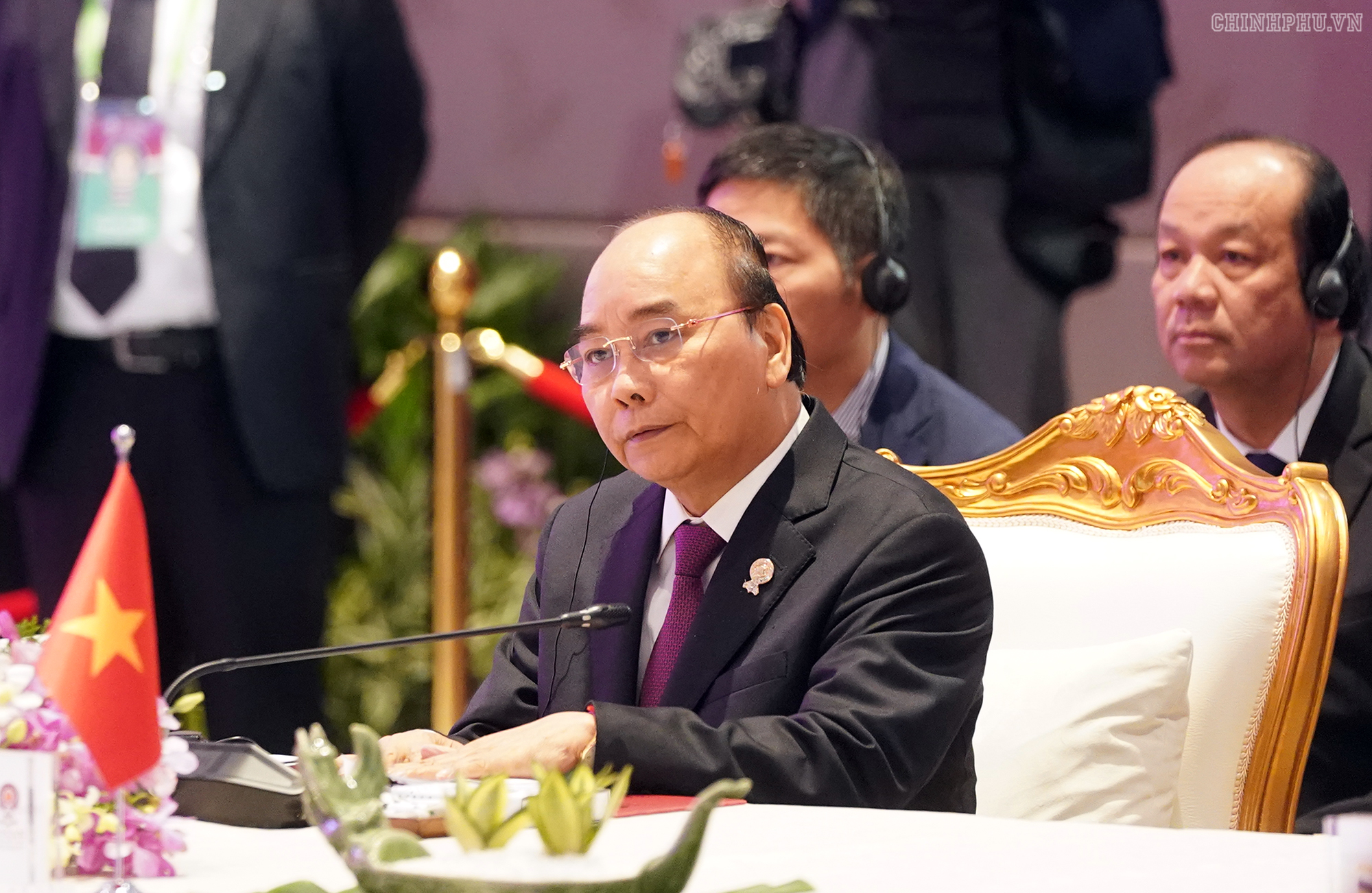 Prime Minister Nguyen Xuan Phuc at the 22nd ASEAN-China Summit in Bangkok, Thailand on November 3, 2019. Photo: VGP
>>> PM calls for "serious commitments and responsibility" from all countries to protect peace, stability in East Sea
>>> PM discusses bilateral ties with Thai counterpart, ASEAN-UN partnership with Secretary General
>>> VN asks China to respect marine economic activities in line with int'l law
The summit was attended by leaders of ASEAN member States and Chinese Premier Li Keqiang.
He also called for doubling efforts at both bilateral and multilateral levels to create an environment conducive to the processes of rule building, dialogue, trust building, peaceful settlement of differences on the basis of international law, serious and full implementation of the Declaration on the Conduct of Parties in the East Sea, àn finalization of an effective and efficient Code of Conduct (COC) in the East Sea that is in line with international law supported by the international community.
Phuc emphasized that all countries share common interests and responsibility in maintaining peace, security and stability in the East Sea as it is one of the vital global shipping routes and the security and development space of the region.
Viet Nam's East Sea positions are "clear and consistent" and have been repeatedly at forums of various levels, he affirmed.
At the summit, the leaders emphasized the importance of the ASEAN-China partnership for peace, security, stability and prosperity in the region.
They also underlined the importance of maintaining peace, security, stability, freedom and safety of navigation and aviation, exercising self-restraint, and avoiding actions that may further complicate the situation in order to build the East Sea into the sea of peace, stability, and cooperation.
The leaders welcomed the close economic ties between ASEAN and China, in which China has been the biggest trading partner and one of the top investors of ASEAN over the past decade.
Both sides committed to fostering trade and investment cooperation in order to raise the two-way trade to US$ 1 trillion by 2020.
The leaders agreed to designate the year 2020 as the year of ASEAN-China Cooperation on Digital Economy.
The summit concluded with the adoption of the ASEAN-China Leaders' Statement on Smart City Cooperation Initiative, ASEAN-China Statement on Strengthening Media Exchanges and Cooperation, and ASEAN-China Statement on Synergizing the Master Plan on ASEAN Connectivity (MPAC) 2025 and the Belt and Road Initiative (BRI).
The same day, PM Phuc also attended summits between ASEAN and its partners and had bilateral meetings with Chinese Premier Li Keqiang and Managing Director of the International Monetary Fund Kristalina Georgieva./.
By Quang Minh