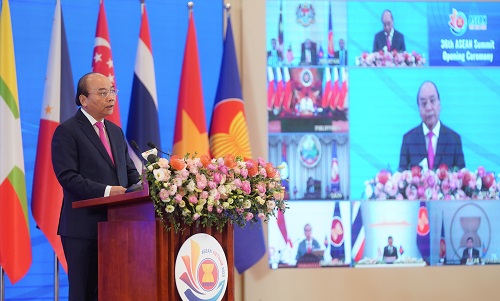 Prime Minister Nguyen Xuan Phuc addresses the opening ceremony of the 36th ASEAN Summit. Photo: VGP
>>> Picture update: 36th ASEAN Summit
>>> Infographics: Viet Nam's ASEAN membership
The summit takes place in the context of the pandemic which has spread around the world.
The Vietnamese Government chief applauded the spirit of solidarity and coordination among the member countries, and prompt actions they are taking in the fight against the pandemic, affirming that Viet Nam will continue to closely work with other ASEAN countries in this fight.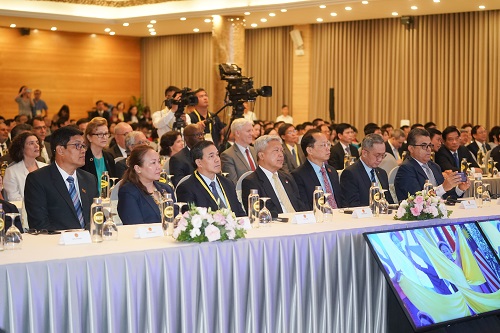 The opening ceremony draws the participation of 300 local and foreign delegates. Photo: VGP
PM Phuc extended thanks to the leaders of ASEAN member countries and the bloc's partners for their cooperation with and support for Viet Nam in joint efforts to respond to the pandemic, especially strong commitments at the Special ASEAN Summit and the Special ASEAN 3 Summit on COVID-19 in April.
The regional leaders will discuss measures to address the social and economic impacts caused by the COVID-19 crisis, post-pandemic recovery plans for the regional countries in the immediate time, and orientations to accomplish cooperation and integration goals.
The opening ceremony saw the participation of leaders of the 10 ASEAN member countries, Chairwoman of the National Assembly Nguyen Thi Kim Ngan - Chair of the 41st General Assembly of ASEAN Inter-Parliamentary Assembly (AIPA 41), Deputy Prime Minister and Foreign Minister Pham Binh Minh - Chairman of the National ASEAN 2020 Committee.
Founded in 1967, the Association of Southeast Asian Nations (ASEAN) groups 10 member states, namely Brunei, Cambodia, Indonesia, Laos, Malaysia, Myanmar, the Philippines, Singapore, Thailand and Viet Nam./.
By Ngoc Van