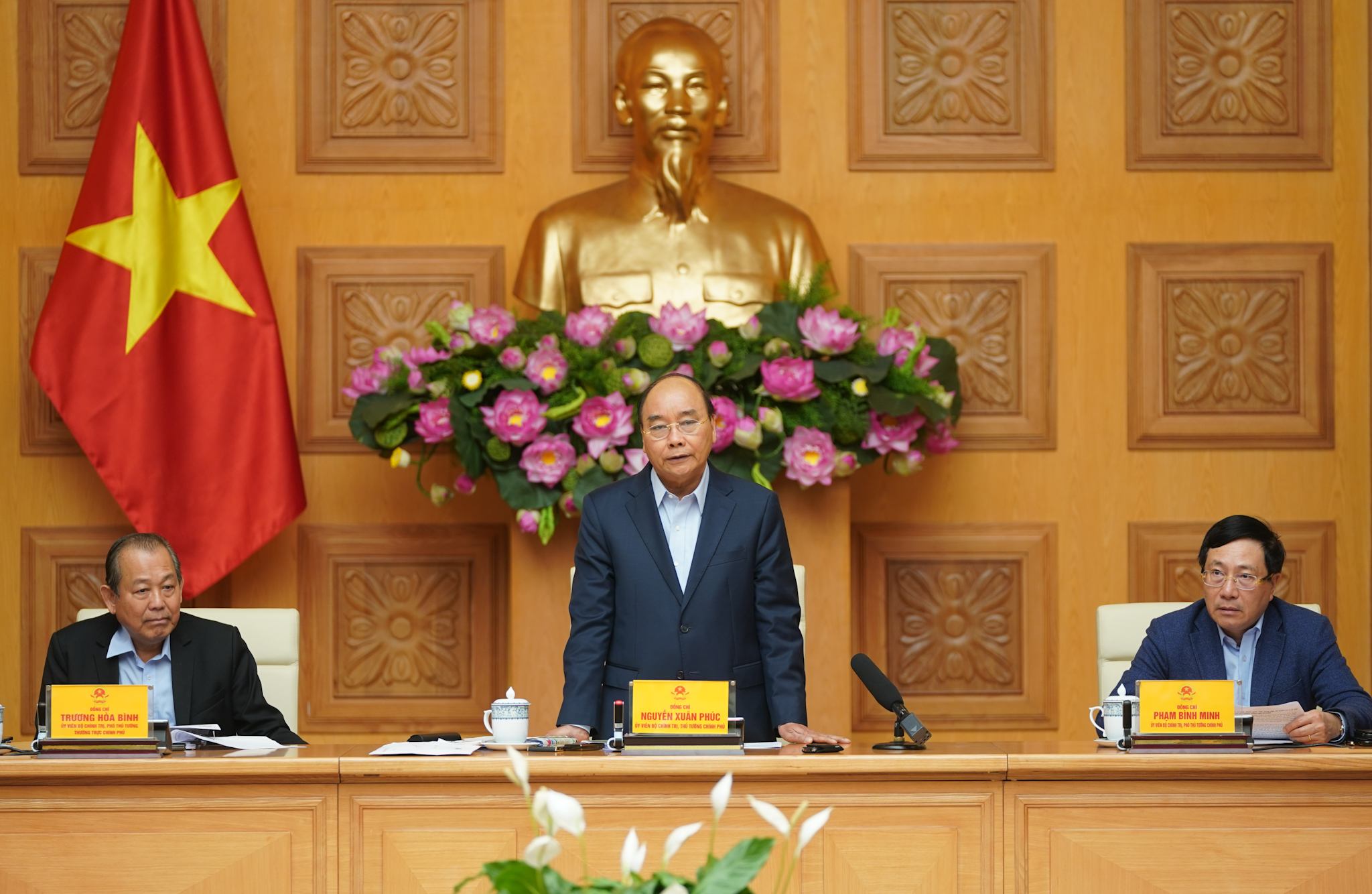 Prime Minister Nguyen Xuan Phuc (middle) calls for more drastic attitude towards the COVID-19 outbreak combat. Photo: VGP
>>> Latest update on Gov't responses to COVID-19 epidemic
>>> Health declaration mandatory for incoming travelers from Cambodia
>>> Telemedicine Center for COVID-19 Outbreak Countrol launched
>>> VN suspends visa-waiver program for Italian citizens
Speaking at a meeting Thursday, the Government chief said that we are not allowed to be subjective or hesitate in this fight.
He tasked major municipalities, especially Ha Noi and Ho Chi Minh City, to envisage plans for large-scale quarantine while the healthcare sector and relevant authorities need to further specify plans for prompt allocation of personnel and resources to the epidemic-hit areas.
The PM also assigned the Ministry of Health to buy in 20 million facemasks for COVID-19 combat.
Phuc reaffirmed the Government's dual mission of fighting the epidemic and promoting socio-economic development, adding that he will sign a directive later the same day, which is expected to roll out urgent measures to ease difficulties against production and business.
Viet Nam reported 16 infection cases so far and all of them have been cleared of the virus and exited treatment facilities.
Over the last 23 days, no new infection has been found in Viet Nam, according to the Ministry of Health.
Though the epidemic has been well controlled, competent authorities are preparing for worse scenarios.
Earlier on March 4, the Viet Nam People's Army conducted simulation exercise with five training levels in response to the COVID-19 outbreak./.
By Huong Giang