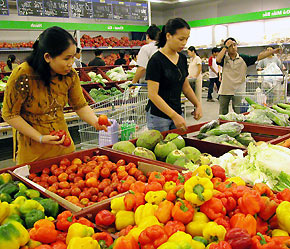 Illustration photo
Mr. Diệp Kỉnh Tần, Deputy Minister of Agriculture and Rural Development
made the announcement at a press briefing yesterday in Hà Nội.
According to the Deputy Minister, under the circular, any exporting country which has yet registered the origin of their plant commodities with Vietnamese competent agencies is not allowed to export to Việt Nam.
The move is part of Việt Nam's effort to fulfill its commitments with the World Trade Organization (WTO) and reflects trade equality among countries, he added.
Mr. Tần also revealed that Việt Nam has strictly complied with the regulations on origin registration for its exports of animal products to other countries.
The country is able to verify the origin of imported products, said Mr. Nguyễn Như Tiệp, the Head of National Agro-Forestry-Fisheries Quality Assurance Department.
So far, the US, Canada, Australia and Thailand have registered sources of exports with the Vietnamese competent agencies, he concluded./.
By Kim Loan