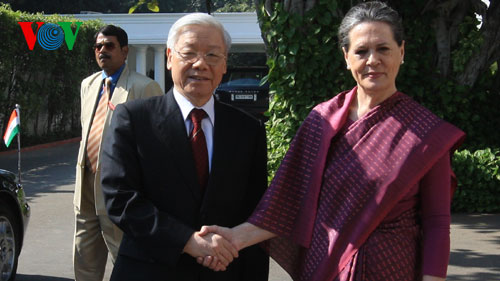 Party General Secretary Nguyen Phu Trong (L) and Indian President of the Indian National Congress Party (NCP) Sonia Gandhi - Photo: VOV
Party leader Trong said the Vietnamese people are always grateful to Indian people for their valuable support and assistance they gave Viet Nam during the past struggles for national independence and the current national construction and development.
He hoped that his visit will help deepen the Viet Nam-India strategic partnership, creating new momentum to cement and deepen the bilateral relations in the coming time.
The CPV said the Party General is keen to enhance its relations with all Indian political parties especially the NCP which is playing a crucial role in the Indian Government.
"The two parties should strengthen delegation exchange, share experience in Party building, management and coordination at multilateral forums of political parties," said Mr. Trong.
The Indian President said that the NCP wants to foster ties with the Communist Party of Viet Nam (CPV) and promote exchanges between the two Parties' organizations.
The NCP chief also spoke highly of the relationship between Viet Nam and India nurtured by late President Ho Chi Minh and late Indian Prime Minister G.Nehru and progress made on bilateral cooperation in trade, investment, economics and information and technology./.
By Kim Loan