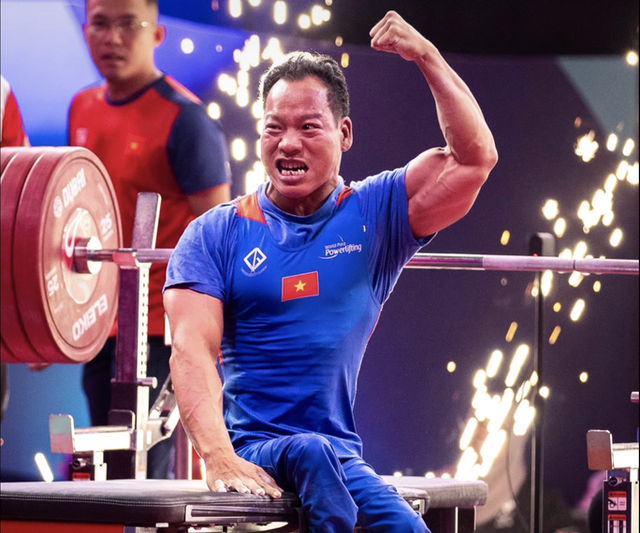 His long wait for a world title was finally over after six years.

The Vietnamese was confident and strongly believed that he could do it all again, and he did it en route to win the men's 49kg category at the Hilton Dubai – Al Habtoor City.
The 39-year-old lifter overcame all powerful rivals including his Paralympic champion Omar Qarada of Jordan on August 24.
He had two successful lifts with the final one putting him one kilogram above Qarada who settled for the second place with 175kg.
Abdullah Kayainar of Turkey came third with a lift of 173kg.
Having clinched his first major title at the 2014 Asian Para Games, Cong has been on the top of the rankings for almost a decade now.
"It's great to have strong competitors like Qarada in your category. That also motivates one to improve. I believe today I had better mental strength than my competitors," said Cong who is the world and Paralympic record holder.
"This is a special win as it has come after a long time. After my injury in 2018, I have trained and pushed myself very hard. This gold is a big motivation going ahead as we look to qualify for the Paralympics."
It was the second world title for Cong who earned his first in the 2017 edition in Mexico.
The shoulder injury five years ago saw the Asian Para Games champion him skipping events and performing cautiously. He could not reach his best the previous world and continental championship as well as the Tokyo Paralympics last year.
Now when he is fully fit and in good condition Cong keeps his eyes on more glory.
"I hope to break the world record in the Asian Para Games," said Cong referring to the continental Games that will be held next month in China's Hangzhou Province.
He also sets either world or Paralympic record at the Paris Games in 2014.
"If I do not suffer injury prior to the Paralympics, I will set up another world record in Paris."
Cong is one of four Vietnamese representatives at the world championship sees the participation of about 500 competitors. They will compete in 10 weight categories each for men and women.
Hours before Cong's golden performance, his female teammate Dang Thi Linh Phuong took the first medal for Viet Nam.
Competing in the women's 50kg class, Phuong came third with a lift of 103kg to take a bronze.
She placed behind Olivia Broome of Great Britain who lifted 112kg and Wei Yi of China who made 105kg.
Two other lifters are ASEAN Para Games champions Nguyen Binh An in men's 54kg and Chau Hoang Tuyet Loan in the women's 55kg. An will compete on August 27 while Loan will vie for medal a day later.
The world championship, which is one of mandatory tournaments that athletes must take part in to earn points for the Paralympic qualification, will wrap up on August 30./.