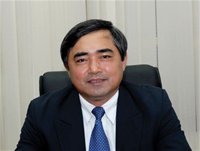 Deputy Minister of Information and Communications Nguyễn Minh Hồng

Press: Currently, Vietnamese ICT enterprises are increasing their investment abroad. What are the Ministry of Information and Communications' (MIC) comments?
Mr. Hồng: During the past years, Việt Nam has received a large-scale inflow of foreign capital by multi-national corporations operating in the fields of chip, computing, cell-phone, telecom equipments and electronics. The trend has helped to open up a prospect for producing and exporting hi-tech goods as well as providing high-class ICT services.
Besides, in recent years, many Vietnamese ICT enterprises are setting firm foots abroad like the Military Telecom Corporation (Viettel); VTC Intecom and VTC Online of the Việt Nam Television Corporation; and FPT Software, FPT Telecom of the FPT Corporation.
The State-owned Việt Nam Post and Telecommunication (VNPT) Group also set up an affiliate named VNPT Global to expand trade and investment activities globally.
However, there are still a limited number of Vietnamese IT enterprises which are capable of doing business in foreign markets.
Press: What is the orientation of the MIC for Vietnamese ICT enterprises to do overseas business?
Mr. Hồng: Some people say that it is a waste of resources for the enterprises to seek investment chances abroad. Instead, they should concentrate on the domestic market only.
But in a recent workshop on outwards investment organized by the Foreign Investment Agency, of the Ministry of Planning and Investment (MPI), economists said that the overseas investment would offer Vietnamese ICT enterprises opportunities to grow out of their boxes.
In fact, some businesses have already been successful when they conquer foreign markets, like the FPT Software in Japan. Their achievements also bring positive effects to domestic ICT production and trade.
As a State management agency, the MIC strongly encourages the Vietnamese ICT enterprises to do business abroad.
Press: What are the MIC's supporting policies for these enterprises?
Mr. Hồng: Over the past time, series of preferential policies have been issued to further attract foreign capital in the ICT sector, but policies for encouraging the Vietnamese enterprises to invest abroad have not receive adequate attention.
Currently, the MIC is drafting master orientations toward building ICT giants strong enough to cover both domestic and foreign markets.
The MIC is also coordinating with the MPI and the Ministry of Finance to finalize the legal framework for these businesses to boost outwards investment activities.
By Hải Minh