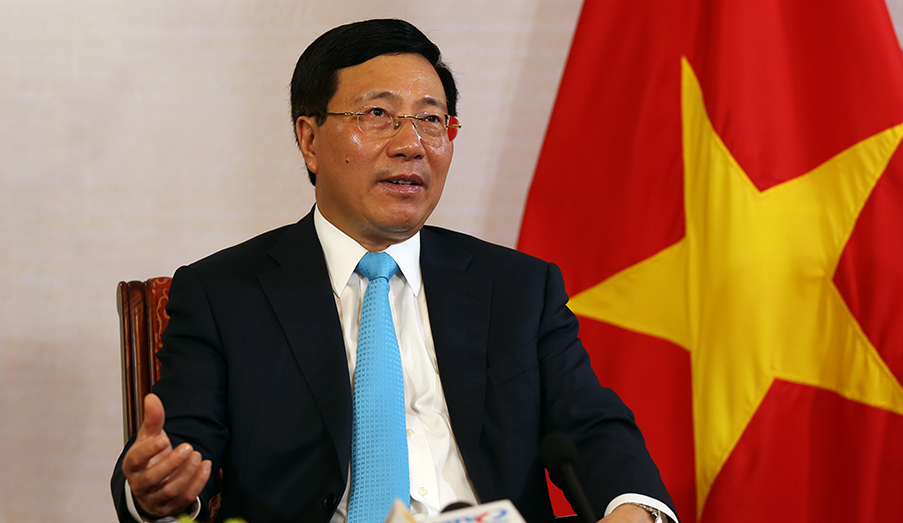 Deputy Prime Minister and Foreign Minister Pham Binh Minh-Chairman of the National ASEAN 2020 Committee. Photo: VGP
Accordingly, the Committee is an inter-sectorial organization that performs functions and tasks under the Prime Minister's Decision No. 1743/QD-TTg dated December 14, 2018.
Chairman of the National Committee is responsible for all works related to preparations, contents and organization of relevant conferences and activities during Viet Nam's ASEAN Chairmanship 2020.
The Chairman is also responsible for approving programs and master plans on preparation and organization of activities throughout 2020, for convening and presiding over meetings of the National Committee and for instructing issues related to ASEAN political-security pillar.
Meanwhile, the Committee's General Secretary is tasked to assist the Chairman in coordinating preparatory and organization work during Viet Nam's Chairmanship year.
The General Secretary is empowered to develop the Committee's periodical reports to submit to the Prime Minister, directly administer the National ASEAN 2020 Secretariat and coordination among Sub-committees.
The National ASEAN 2020 Committee includes five Sub-Committees (contents, protocol issues, communications-culture, materials-logistics, and security-healthcare), and the National ASEAN 2020 Secretariat.
The National Committee made debut in Ha Noi on December 24, 2018.
Speaking at the inception ceremony of the Committee, Prime Minister Nguyen Xuan Phuc vowed to successfully host events as ASEAN Chair in 2020 in terms of contents, security and protocol, and expansion of national image.
The early debut of the National ASEAN 2020 Committee represents the active participation of Viet Nam in ASEAN, he stressed.
By Thuy Dung