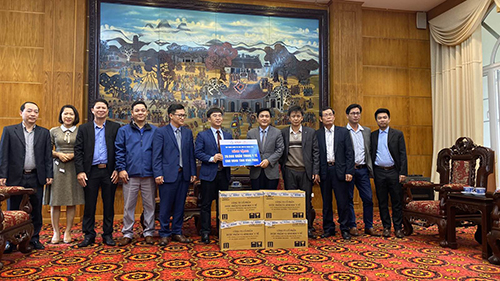 Aikya Pharmaceutical Group's representatives hand over facemasks to Vinh Phuc at the provincial People's Committee on February 13, 2020
This mask donation program has been implemented on a national scale, in many hot spots and in large hospitals such as Viet Duc Hospital (Ho Chi Minh City); Cai Lay General Hospital (Tien Giang), Viet Duc Hospital (Hanoi), Tra Vinh General Hospital, National Tuberculosis Hospital (Hanoi).
Deputy Director of Central Lung Hospital - Dr.BS Dinh Van Luong said, with the number of inpatients at the beginning of 2020 at the hospital is always high, ranging from 700 to 800 patients and all are seriously ill. The Central Lung Hospital is a very high risk area for infection because most patients who come to the hospital have symptoms.
"Not to mention the physicians and staffs of the hospital, which is nearly 1,000; and the large part of the patient's family, all are urgently in need to be equipped with masks; This act of kindness of Aikya Pharmaceutical is extremely meaningful "- Dr. Dinh Van Luong noted.
Before that from February 4 to 12, Aikya Pharmaceutical had distributed over 270,000 free masks. In particular, 50,000 masks were given to the Border Guard High Command; 50,000 face masks for Ministry of Public Security; 20,000 for field (Hanoi Capital City Special High Command) and another 30,000 were given directly to the National Assembly Television Channel for their own distribution.
Mebiphar 3D Masks are manufactured according to European standards (EU Standard): EU EN 143: 2001 A1: 2006 and TCCS: 08-A-001-19 / SH. Product quality has been tested by competent agencies such as Ho Chi Minh City Department of Health, Safety Center - Institute of Occupational Safety and Health and met all requirments for mass production and distribution nationwide.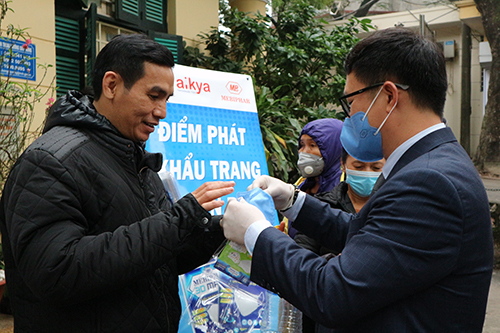 A local resident receives facemask from member staffs
During this time, the Aikya Pharmaceutical Group will suspend sales on the retail market to provide face masks of the anti-epidemic work, free distribution support in hospitals, schools, airports ... joining hands with the epidemic prevention community.
Mr. Ha Ngoc Son - Chairman of Aikya Pharmaceutical Group said: We are trying to mobilize more personnels and increase production day and night to produce & distribute more face masks. Productivity has increased 3 folds since the start of the outbreak and we have just finished assembling another production line yesterday, it will provide more masks to the people and support the most needed units. For example, the field hospital is in need of 3,000 masks a day but still has no source. We will certainly participate and support them, and commit to donating and distributing masks until the elimination of the Covid-19 epidemic./.