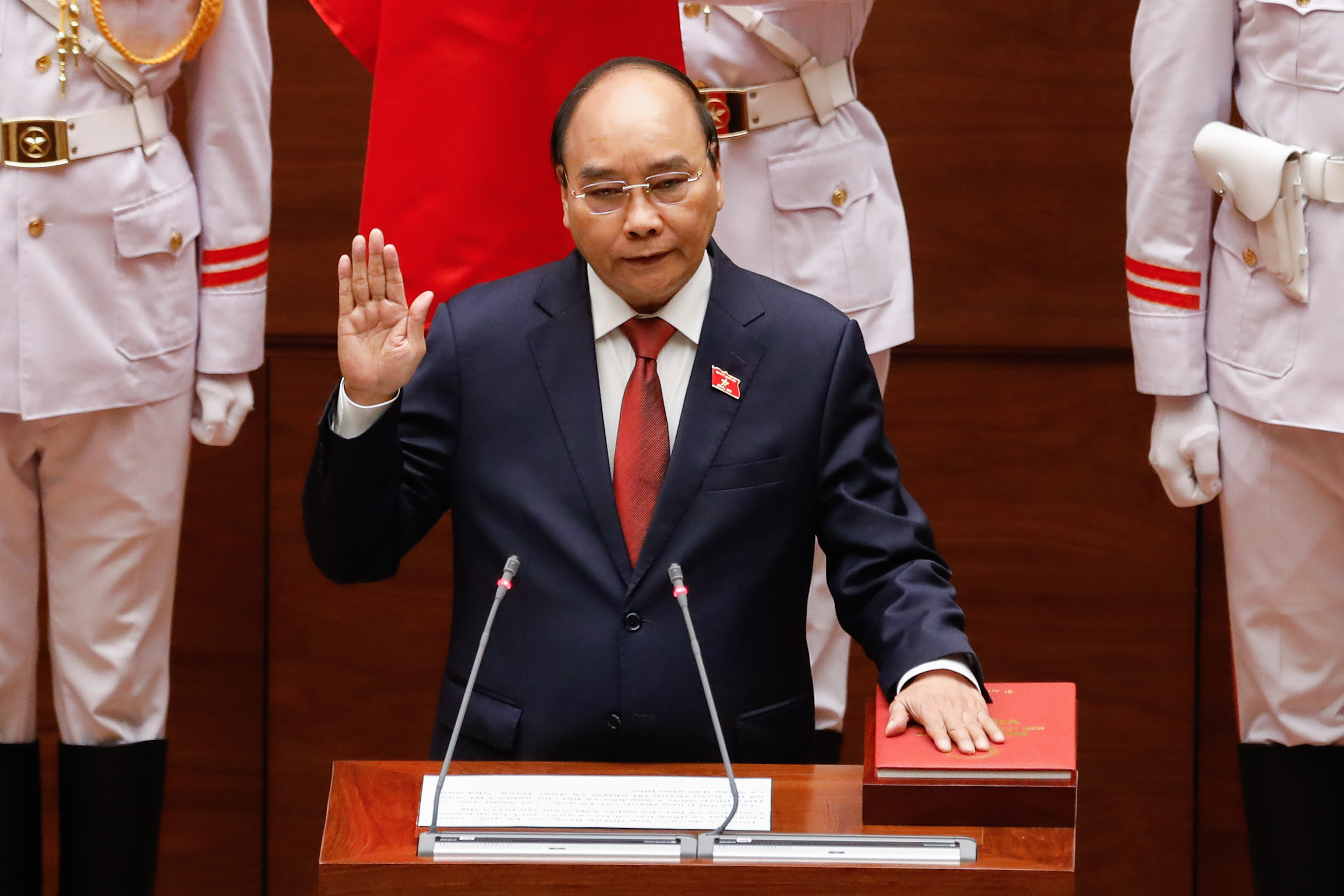 Nguyen Xuan Phuc is sworn in as new State President of the Socialist Republic of Viet Nam, Ha Noi, April 5, 2021. Photo: VGP
Follow us on Twitter @VNGovtPortal and Facebook page @VNGov
The new State President pledged to do his utmost to successfully fulfill the tasks assigned to him by the Party, State and people.
Phuc promised to focus on improving the efficiency and effectiveness of the State apparatus, to continue accelerating the fight against corruption and wastefulness, and to draw involvement of all people to realize the goal of making Viet Nam a strong and prosperous country by 2045.
He took the occasion to express thanks to foreign countries and international friends for their valuable support and assistance for Viet Nam over the past time, affirming that Viet Nam will still remain a good friend and a trusted partner for the international community.
Phuc, aged 67, was elected as Prime Minister for the 2016 – 2021 tenure at the first session of the 14th National Assembly.
Under his leadership as the Prime Minister, the country's GDP increased by 1.4 times comapred to that in 2015.
The International Monetary Fund estimated that Viet Nam's GDP size surpassed US$340 billion, making it among the 40 biggest economies in the world.
Total trade volume in 2019 rose by 1.7 times from 2015, and reaching US$545.4 billion in 2020 despite the COVID-19 pandemic.
During the past five years, the country's international rankings have also improved significantly thanks to the Government's tireless efforts.
Viet Nam jumped 20 places to 70th among 190 economies and ranked fifth in ASEAN in the World Bank's Doing Business Report.
In terms of global competitiveness index, Viet Nam climbed up 10 places to 67th out of 141 countries, according to the World Economic Forum.
The Government issued a program to cut and simplify regulations related to business activities for 2020-2025, setting goals to reduce and streamline at least 20% of procedures and at least 20% of procedure compliance costs while stepping up provision of online procedures.
Viet Nam's e-Government index rose by three places to 86th among 193 countries and ranked 6th in ASEAN.
Viet Nam jumped 50 places to rank 50th among 194 countries and territories on the Global Cybersecurity Index rankings (2018).
Viet Nam jumped 25 spots in the World Bank's Logistics Performance Index 2018, ranking 39th among 160 countries and 3rd in ASEAN after Singapore and Thailand.
Particularly, Viet Nam has been widely recognized by the international community as a success story in the fight against COVID-19 pandemic.
By Huong Giang