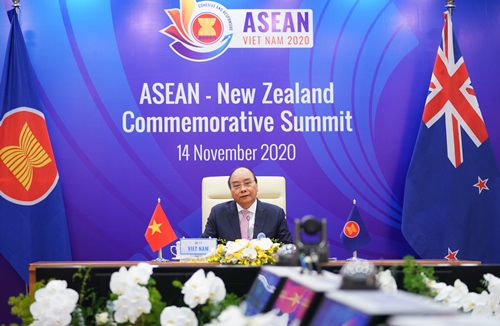 Prime Minister Nguyen Xuan Phuc chairs the online ASEAN-New Zealand Commemorative Summit, Ha Noi, November 14, 2020 - Photo: VGP/Quang Hieu
The ASEAN-New Zealand Commemorative Summit, which was held digitally, also marked the 45th anniversary of the diplomatic partnership between the two parties.
"New Zealand and ASEAN share a strong legacy of working together to advance peace and prosperity in our region. ASEAN is our fourth largest trading partner, a crucial defence and security partner, and a critical strategic hub that connects us to Asia and the rest of the world," said Jacinda Ardern.
"Our partnership will play an important role as our countries work together to support global efforts to manage the pandemic and ensure fair and equitable access to safe vaccines, and drive economic recovery through maintaining open markets for our exporters and resilient supply chains," she added.
The Prime Minister, through a joint statement with Leaders, reaffirmed New Zealand's commitment to strengthening its partnership with ASEAN under the themes of "Peace, Prosperity, People and Planet", which will promote cooperation in areas such as sustainability and climate change, trade facilitation and digital commerce.
On the occasion, the Kiwi Prime Minister announced US$1 million aid to the ASEAN Covid-19 Response Fund, US$12 million for supporting the region's efforts in fighting the pandemic, US$10 million for smart agriculture and climate change adaption and US$5 million for the Mekong River Commission.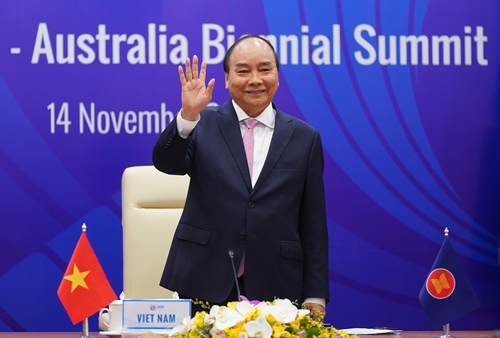 Prime Minister Nguyen Xuan Phuc chairs the second ASEAN-Australia Biennial Summit, Ha Noi, November 14, 2020 - Photo: VGP/Quang Hieu
Australia provides AUD 232 million package for Mekong region
At the second ASEAN-Australia Biennial Summit on November 14, Prime Minister Phuc welcomed Australia's commitment to contributing AUD1 million for ASEAN COVID-19 Response Fund and providing AUD60 million package for regional economic integration.
Australian Prime Minister Scott Morrison said COVID-19 has changed much but Australia's commitment to ASEAN remains steadfast. Australia and ASEAN share a vision for a peaceful, inclusive, sovereign and resilient region.
He said Australia will invest $21 million for the ASEAN Center for Public Health Emergencies and Emerging Diseases, as part of Australia's commitment of an additional $500 million over three years to support access to safe and effective COVID-19 vaccines for the Pacific and Southeast Asia, plus a further $24 million towards the Global Fund to Fight AIDS, Tuberculosis and Malaria.
Australia will also provide $232 million to support economic integration and development in the Mekong, Scott Morrison said.
By Thuy Dung