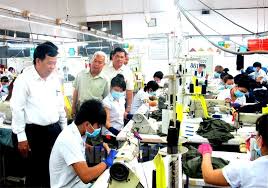 More than VND20,000 billion are funded to support people affected by COVID-19 at 63 localities nationwide.
Since May 9, around VND7,630 billion (or US$350 million) will also be financed for free and unemployed laborers, said Dung, asserting that thanks to policies and guideline of the Government, it is estimated that 70,000-80,000 laborers will gradually be employed soon.
Around 86% of enterprises have reported that their revenues reduced by 30% due to COVID-19 pandemic, according to the Minister.
Particularly, small and medium-sized enterprises and firms operating in tourism, aviation and service sectors have been hit hardest, he added.
Meanwhile, as many as 26% of firms have to temporarily stop operation.
The COVID-19 pandemic has cost nearly five million Vietnamese workers their jobs as of mid-April, bringing the first quarter employment figures to a 10-year low, according to the General Statistics Office.
Earlier, the Government has passed a VND62 trillion (US$2.6 billion) financial support package for poor people and businesses affected by the Covid-19 pandemic.
The package, approved by Prime Minister Nguyen Xuan Phuc Friday, is expected to support 20 million people.
The financial support will be provided over at least three months until June. Of the VND62-trillion package, nearly VND36 trillion ($1.55 billion) will be taken from the central government and local administration budgets.
As of early May 10, Viet Nam has confirmed 288 COVID-19 infection cases, of whom 241 have been cleared of the virus and exited hospitals, according to the National Steering Committee for COVID-19 Prevention and Control.
Viet Nam has gone 24 days without any new community infection of COVID-19./..
By Thuy Dung