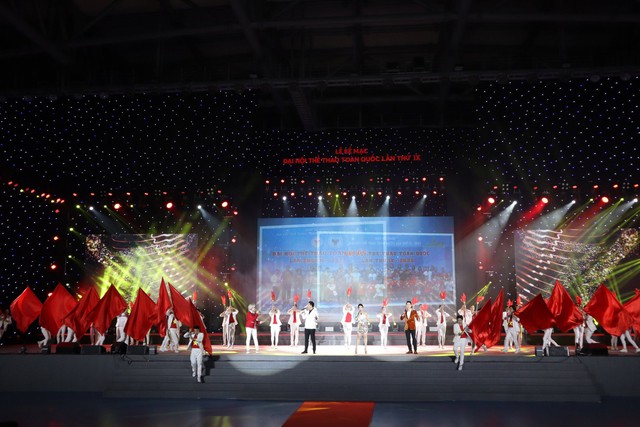 About 17,000 athletes, coaches, referees and other took part in 933 events of 43 sports in Quang Ninh Province and 10 other localities.

This was the largest Games in history in terms of number of sports and participants.
Ha Noi successfully defended its top position in the medal tally with 175 golds, followed by HCM City with 128 golds and the Military with 90 golds.
It was the sixth time in a row that athletes of the capital city lead the Games' No 1 podium.
At the quadrennial event, talented sportsmen set up 53 new national record and 96 new Games heights.
"The ninth National Sports Games is a successful event in different fields," said Minister of Culture, Sports and Tourism Nguyen Van Hung at the closing ceremony on December 21.
"The organisers have well prepared from the facilities to organising activities, especially the quality of competitions. All matches are held under sportsmanship, solidarity, fair-play spirit and aspiration for victory.
"We can see sweats, tears and smiles on their faces through competitions. We all are winners at the Games," Minister Hung said before he officially declared the closing of the Games.
The next Games will be hosted by HCM City in 2026.
High quality competitions
Swimmer Nguyen Thi Anh Vien of the Military team is the most successful athlete as she grabbed nine gold medals (seven individuals and two teams). SEA Games champion Nguyen Thi Huong maintained her outstanding performance with five golds in canoeing for her Vinh Phuc Province.
Runner Nguyen Thi Oanh of Bac Giang bagged four golds and set up two new Games records and one national record. Meanwhile Nguyen Dat Manh of Ha Noi won four golds in archery.
Athletics was the most attractive sport of the Games with five national and 15 Games records.
Athletes scored high results and made up stories at the Ha Noi's My Dinh Stadium.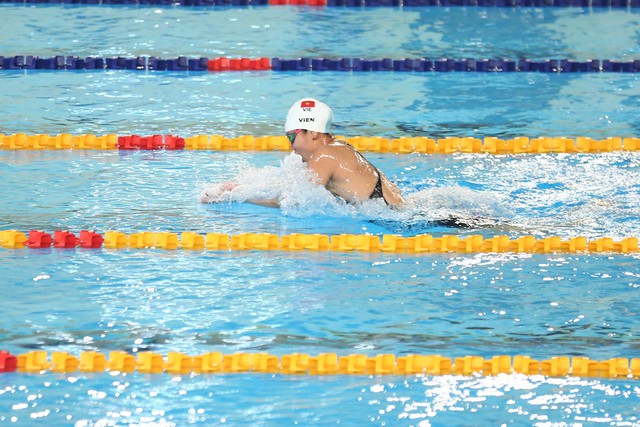 Among them, runner Ngan Ngoc Nghia of the Public Security made up a remarkable performance in the men's 100m event. He won the race in 10.35sec which is the new record of the Games and Viet Nam. The old records, which also belonged to Nghia, were 10.47sec and 10.40sec, respectively.
His result made sport officials believe in a gold chance in the 32nd SEA Games next year for Viet Nam for the first time in the men's 100m. The defending champion Puripol Booson of Thailand won the 31st Games title with a time of 10.44sec in May in Ha Noi.
Marathoner Le Thi Tuyet of Phu Yen made a shock in the women's 42km event as the 18-year-old overcame all title favorites including SEA Games bronze medalist Hoang Thi Ngoc Hoa of Binh Phuoc to win gold and set up new Games record of 2hr 47.03min.
"The gold is a surprise to me and it will forever be my most important milestone in career," said Tuyet who is 1.46m tall and weighs 37kg. "It will push me to prepare for a berth at the SEA Games and other tournaments of Viet Nam."
Athletics also saw a rare result when three men received gold medal in the men's pole vault after their leaps of 4.3m. They were Le Van Han, Nguyen Van Hue of Hai Duong and Tran Ba Linh from Da Nang.
The Games also saw many new talented athletes such as 13-year-old swimmer Nguyen Thuy Hien and 16-year-old swimmer Nguyen Quang Thuan, both of the Military.
Hien won four golds, four silvers and set up a new record of 26.20sec in the women's 50m freestyle.
Thuan defeated SEA Games winner Tran Hung Nguyen to win in the men's 400m medley. His time of 4:20.19 is new Games record, beating the old one of 4:22.56 by Nguyen in the previous Games.
Runner Tran Thi Nhi Yen of Long An was expected a new queen in the women's 100m event. The 17-year-old secured gold in the 100m and silver in the 200m event. Her times of 11.75 and 24.18sec, respectively, were believed to make a bang in Cambodian Games next May.
Speaking at the closing ceremony, Director of the Viet Nam Sports Administration Dang Ha Viet said the National Sports Games played key role in reviewing the sport training and competing activities in a four-year period.
From their performance, coaches will pick up the best athletes for the national teams. They will receive intensive practice course to be ready for the big competitions such as the 32nd SEA Games and the 19th Asian Games in 2023 and the Paris Olympics in 2024.
Farewells
Swimmer Vien, a sport legend of Viet Nam, confirmed the National Sports Games her last competition.
Her amazing result of nine gold medals was a happy ending for Vien who left the national team late last year.
"I just want to have a normal life, do whatever I want and live peacefully with my family. This will be my last competition," said Vien, the only female Vietnamese swimmer winning gold medal in SEA Games in 54 years.
On his Facebook, boxer Truong Dinh Hoang also posted his retirement announcement.
"14 years, four National Sports Games and 25 times on the top podium of different competition, I have done my duty with my Dak Lak Province!"
Hoang wrote it was time to stop fighting and pay attention to his family. His younger teammates will help him to shoulder the duty.
"Goodbye boxing! Hope to contribute to sport in another position!"
Weightlifters Tran Le Quoc Toan of Da Nang and Thach Kim Tuan of HCM City also competed in their last event as athletes.
Toan who received his London Olympic bronze medal after nine years secured a bronze in the men's 55kg class while world bronze medalist Tuan bagged gold in the men's 61kg pool.
In athletics, veteran Nguyen Van Lai of the Military will move to his new passion of marathon after the National Games. He ended his brilliant career with gold and a record in the men's 10,000m and silver in the 5,000m event.
At the same time, former SEA Games champion in men's 800m and 1,500m Duong Van Thai from Nam Dinh decided to become a coach after the Games. Thai dominated the national and regional competitions for many years before he was passed by younger runners recently. He believed that it was right moment to make a switch, leaving the tracks for the talented athletes.
Player Pham Nhu Thao of Ha Noi ended her 17 years with badminton after a silver in the mixed double event on last week.
Thao was the best badminton athlete in double category for a decade. She was in women's pair with Le Thu Huyen and Do Tuan Duc in mixed pair and grabbed remarkable results for Viet Nam including the Canada Open title and Vietnam International Challenge gold./.