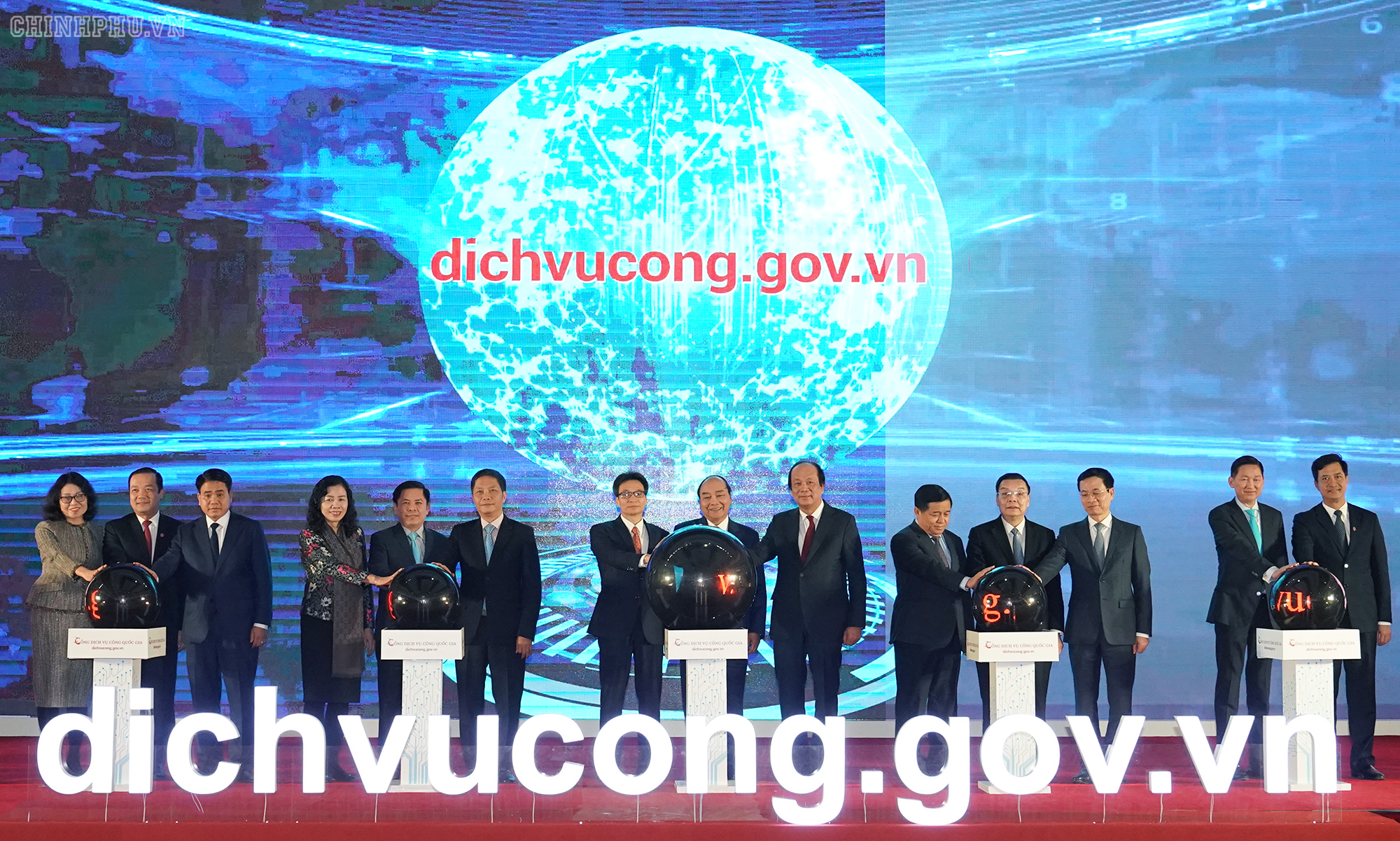 Deputy Prime Minister Vu Duc Dam (7th from left), Prime Minister Nguyen Xuan Phuc (8th from left), Minister-Chairman of the Government Office Mai Tien Dung (9th from left) at the launching ceremony of the national public service portal in Ha Noi on December 9, 2019. Photo: VGP
The Government chief made the above statement on Monday at the launching ceremony of the national portal.
Phuc said the launch of the portal is an initial successful step, reflecting the Government's determination to foster e-government development in a practical and effective manner.
He urged the Government Office to continue efforts to provide level-4 public services and integrate more services into the portal while ministries, agencies and localities need to quickly develop and share their databases in a bid to further simplify administrative procedures.
Ngo Hai Phan, Director-General of the Government Office's Administrative Procedure Control Department, said that the portal is a crucial part of e-Government development, serving as platform to connect the Government with the people and businesses.
The portal consists of six components namely national database on administrative procedures and the frequently asked questions and answers related to the procedures, on-time login and verification system to connect with ministerial and provincial-level public service portals, e-payment system, opinion section for citizens and enterprises, integrated public services of ministries, agencies and localities, and online supporting services.
By logging into the portal https://dichvucong.gov.vn through a single account, citizen/enterprise could access to online public service portals of ministries and provinces to look for administrative procedures and public services and monitor the process of handling administrative procedures and public services.
The national public service portal will help improve openness and transparency of information relevant to administrative procedures as well as accountability of State agencies, Phan said.
The portal is estimated to help the State to save VND 4,222 billion per year and the figure will continue to rise with more public service integrated into the portal, according to Phan.
He also said the portal will help reduce scattered investment by ministries, agencies and localities and spur the process of administrative reforms in Viet Nam.
Initially, the portal will offer five online public services at all 63 provinces and cities: (i) issuance of driving licenses, (ii) announcement of promotion activities, (iii) reissuance of health insurance cards, (iv) provision of electricity services to citizens/enterprises, and (v) payment of electricity bills.
Moreover, the portal also provide four ministerial-level public services like (i) issuing international driving licenses, (ii) registration for promotion activities, (iii) grant of certificates of origin of goods, and (iv) e-tax payment for businesses.
In addition, other public services will also be provided by localities such as registration of business households and tax (Ho Chi Minh City) and birth registration (, Ha Noi, Quang Ninh Province and Hai Phong City).
In the first quarter of 2020, other 15 public services will be integrated into the national portal, focusing on tax, customs, business registration, health, labor, birth registration, security transactions and collection of fines for road traffic violations./.
By Huong Giang