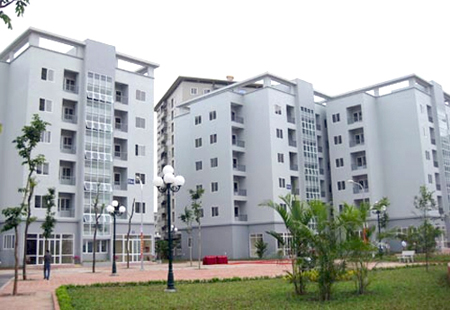 The National Housing Development Strategy in the 2021-2030 targets to develop social houses for low-income people in urban areas, workers at industrial parks, public servants, soldiers
The strategy sets specific targets that by 2025, the average housing floor area per person will reach 27sq.m with 28sq.m in urban areas and 26sq.m in rural areas.
By 2030, the rate of permanent housing nationwide will reach 85-90%, of which the rate is 100% in urban areas and 75-80% in rural areas. Up to 90% of houses nationwide will have synchronous systems of electricity and water supply, and wastewater drainage which are connected to regional technical infrastructure system.
The strategy also targets to develop social houses for low-income people in urban areas, for workers at industrial parks, and for public servants and soldiers.
Poor households in rural areas, ethnic minority and mountainous areas will get support from local budget, loans at preferential interest rates to increase their housing areas and build houses.
Households which reside in areas prone to natural disasters and climate change (floods and landslides) will be able to access to preferential loans to build new flood-proof houses, repair and renovate ones. On the other hand, State budget will be given to build resettlement areas in safe areas for those living in areas seriously prone to natural disasters.
Specifically, the strategy aims to perfect mechanisms and policies on housing, introduce planning solutions to develop land funds; develop housing, financial resources, tax, real estate development market, administrative reform.
Viet Nam's average housing floor area per person in 2020 was only 24sq.m, failing to meet the set target of 25 sq.m, according to an official from the Ministry of Construction.
The sector posted a growth rate from 8.5-8.7 percent annually during the 2016-2020 period, while the rate of urbanization reached about 40 percent.
Up to 90 percent of urban residents have accessed clean water, and the rate of garbage collection and treatment in urban areas has reached 91 percent, the official reported./.
By Khanh Phuong