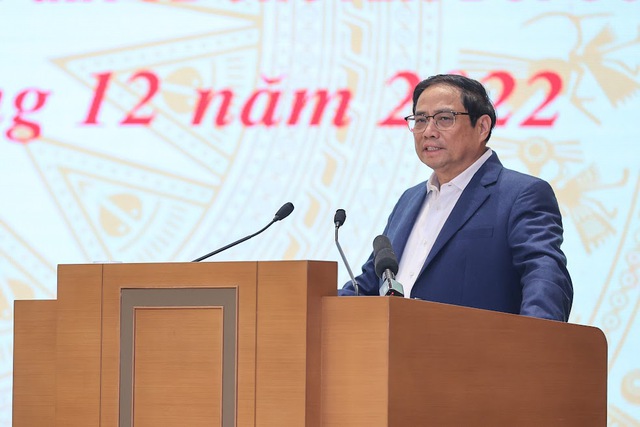 Pham assigned the Ministry of Planning and Investment and the Ministry of Finance to build databases on enterprises while the Ministry of Natural Resources and Environment has to promptly complete the building of national land database.

The State Bank of Viet Nam was urged to coordinate with relevant ministries and agencies to quickly finalize a draft decree on non-cash payments and submit to the Government for consideration and approval.
The Government chief also taseked the Ministry of Information and Communications, the Ministry of Industry and Trade and telecom companies to expand telecom coverage to 266 hamlets and villages that have yet to accesss this kind of service.
The speed of broadband Internet and mobile Internet has improved significantly, ranking 45th and 52nd in the world, and is higher than the world's average.
Currently, 48 out of 63 localities have operated their provincial smart monitoring and managing centers.
A population database has been set up, connected to 47 ministries, localities and State businesses, while more than 76 million chip-based ID cards have been issued, and nearly 2.6 million of e-ID accounts have been activated.
At the same time, the National Online Service Portal has provided nearly 4,400 public services at levels 3 and 4.
In the year, more than 12,000 cyber attacks were detected and handled, while more than 56 percent of Party and State agencies have applied standards on information security.
To date, 99 percent of all enterprises have paid their taxes online, while all operating businesses have used e-invoice.
In 2022, e-commerce contributed 7.5 percent to total retail revenue, while a strong rise was seen in the number of online shoppers and subscribers of Mobile Money, the committee reported./.