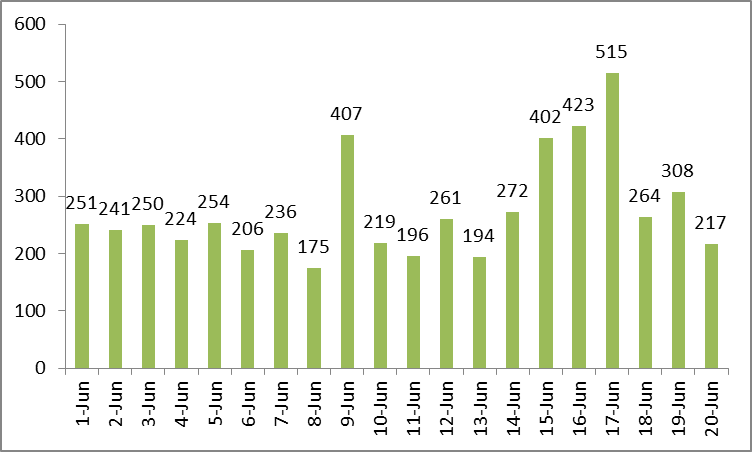 The number of daily new COVID-19 cases from June 1 to 1:00 pm on June 20
The latest patients include 12 Vietnamese returnees from Cambodia (8), France (2), and Singapore (1).
All the others are domestic infections in Ho Chi Minh City (110), Bac Giang (73), Da Nang (18), Binh Duong (13), Bac Ninh (16), Nghe An (3), Quang Nam (1), Ha Tinh (1), and An Giang (1).
The ministry also reported two new Coronavirus-related fatalities, taking the death toll to 66.
One of the latest death is a 53-year-old man in the northern province of Vinh Phuc. He sufferred from non-hodgkin lymohoma from September 2020 and hypertension.
He contracted COVID-19 while he was treating at the national cancer hospital in Ha Noi.
The man passed away on early Saturday.
The other deceased patient is a 80-year-old man in the northern province of Bac Ninh. He suffered from hypertension for years, kidney failure, and asthma.
On June 21, he developed coughing and mild fever and tested positive for COVID-19 four days later.
He passed away on Saturday evening./.
By Quang Minh