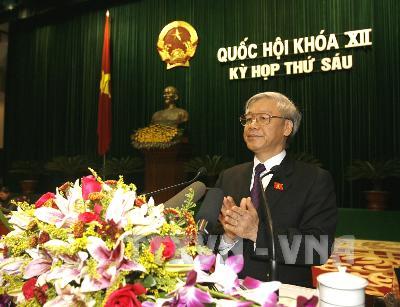 NA Chairman Nguyễn Phú Trọng makes a speech at the closing ceremony of the 6th session of the 12th NA, Hà Nội, November 27, 2009 – Photo: VNA
NA deputies agreed that the national economy well survived the global financial crisis and economic downturn thanks to the Government's flexible and effective performance.
The country's political stability, macro-economy, social security and order were maintained and secured, the top law-makers noted.
The legislative body discussed and passed seven bills and gave their comments on other eleven bills to be approved in the next working session.
Especially, the NA on Friday adopted the Resolution on Socio-economic Development Plan in 2010 with the GDP growth rate of 6.5% and the CPI increase below 7%.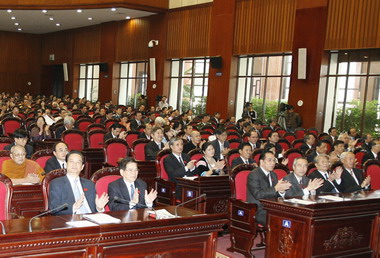 The 6th session of the 12th NA closes in Hà Nội, November 27, 2009 – Photo: VGP
Deputies questioned the PM and four Cabinet members about hot issues, including the efficiency of stimulus packages, performance of State-owned groups, credit incentive policies, education, transport, poverty reduction, and the implementation of policies on agriculture, peasantry and rural development
The NA also gave nods to the construction of the Lai Châu Hydro-Power Plant and Ninh Thuận Nuclear Power Plant. The former is scheduled to be completed in 2017 and the latter to come into operation in 2020.
By Hải Minh