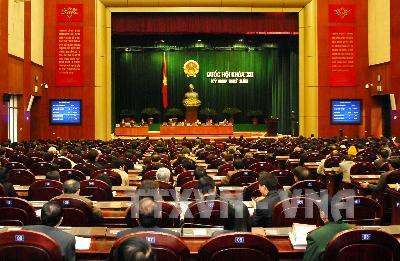 NA deputies vote on the Law on Civil Defense, Hà Nội, November 23, 2009 – Photo: VNA
The first two laws will come into force on January 1, 2011 while the rest will take effect on July 7, 2010.
The Law on the Elderly defines Vietnamese citizens of over 60 years old as the elderly and the 6th day of June every year as the Day of Vietnamese Old People.
According to the Law on Health Examination and Treatment, health staff is allowed to set up or work for private clinics during non-working hours in order to meet the rising public requirements for healthcare.
The Law on Telecommunications allows all entities, including individuals and organizations, to engage in telecommunication activities.
The Law on Radio Frequencies regulates that the Ministry of Information and Communications is directly responsible for managing radio frequencies.
The Law on Civil Defense stipulates that all Vietnamese citizens, men aged between 18 and 45 and women 18-40, bear responsibility to participate in the civil defense force.
By Khánh Phương