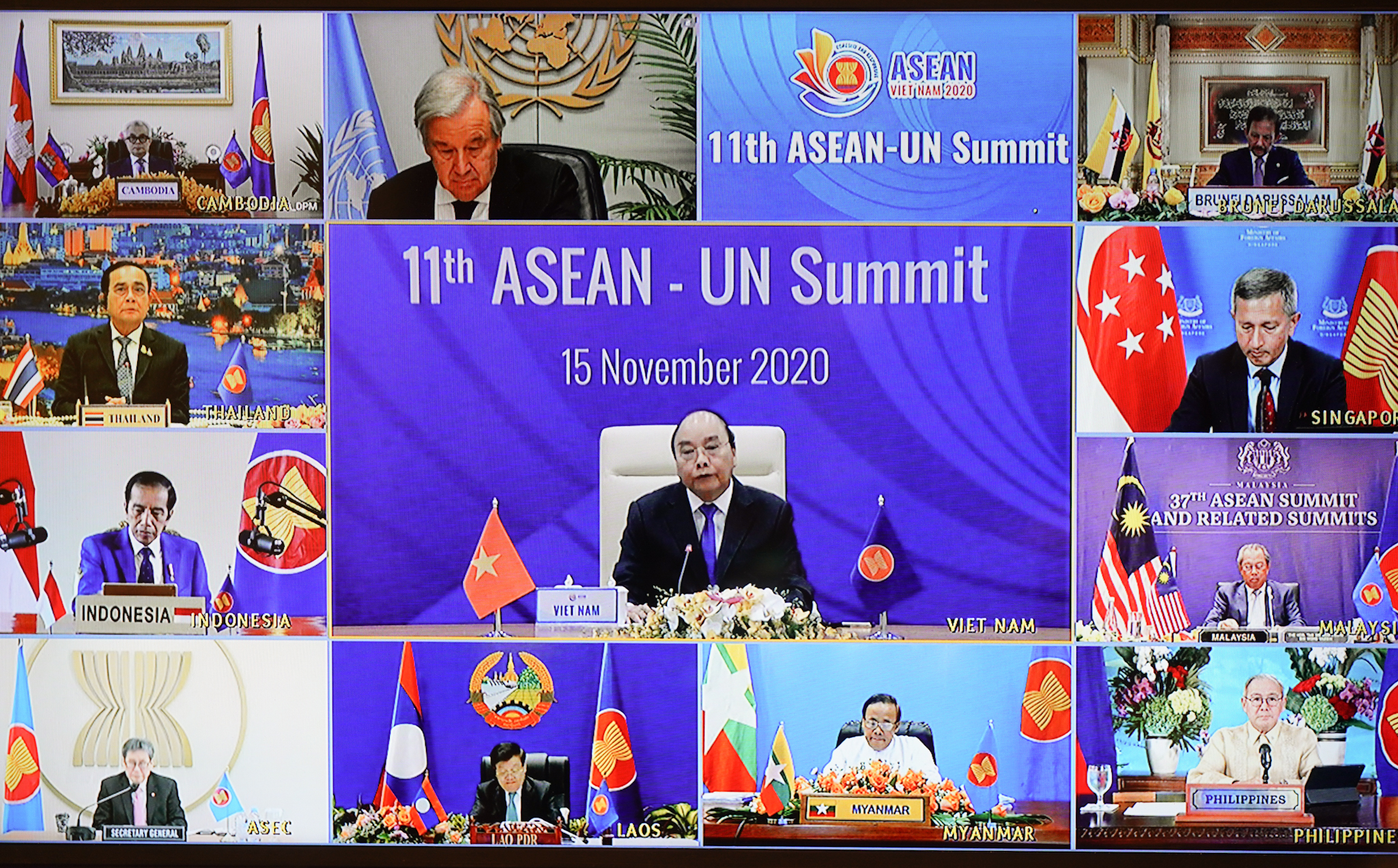 Leaders to the 11th ASEAN-UN Summit held virtually on November 15, 2020. Photo: VGP
In his opening remarks, Vietnamese Prime Minister Nguyen Xuan Phuc emphasized that after four decades, ASEAN-UN ties have become a model for cooperation between the UN and regional organizations.
This year's summit is of significant important as it marked the 75th founding anniversary of the UN and 20th anniversary of the first ASEAN-UN Summit, Phuc said.
Over the past 75 years, the UN has played a central role in coordinating actions of countries as well as international efforts in ensuring peace and promoting sustainable development.
Meanwhile, as one of the most successful regional organizations, ASEAN has affirmed its central role that is indispensible in accelerating dialogue and cooperation for peace, stability and development in the region.
ASEAN has also made proactive contributions to the global efforts led by the UN in order to beef up peace, security and development across the world.
The comprehensive partnership between the Association of Southeast Asian Nations (ASEAN) and the United Nations (UN) has been growing stronger than ever in recent years, UN Secretary-General António Guterres said at the 11th ASEAN-UN Summit held online on November 15.
For his part, UN Secretary General Guterres congratulated Viet Nam on its role as ASEAN Chair 2020 and non-permanent member of the United Nations Security Council for the 2020-2021 tenure.
He expressed his deepest condolences to the Southeast Asian country over the losses caused by recent floods and landslides, affirming that the UN stands with the Vietnamese people and Government.
Guterres named a series of issues such as a global pandemic, climate emergency, rising geo-political tensions, the risk of nuclear proliferation, persistent poverty, growing inequality and intense conflicts, among others.
He welcomed ASEAN's comprehensive recovery framework and stands ready to work with the Association to build resilience, improve preparedness and safeguard the environment.
The UN Secretary General also thanked ASEAN for its contribution of 5,000 peacekeepers to the UN operations.

Regarding the East Sea, Guterres voiced support for upholding international law and the 1982 UN Convention on the Law of the Sea./.
By Quang Minh
Follow us on Facebook page @VNGov