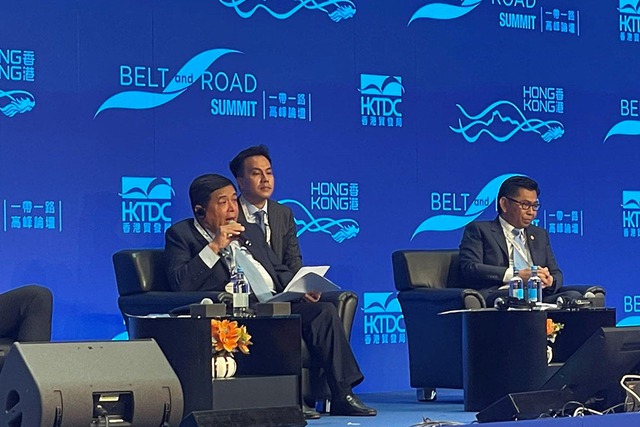 Addressing the event, Nguyen said that Viet Nam plays a bridging role in connecting China and countries in Southeast Asia, adding that cooperation between Viet Nam and China within the framework of the Belt and Road Initiative (BRI) aims to boost regional cooperation and linkage.
As of August 2023, Chinese investors invested US$26 billion in nearly 4,000 projects in Viet Nam, ranking 6th among 143 nations and territories investing in the Southeast Asian country.

Over the last eight months of this year, China was the second biggest investor in the Southeast Asian nation with the newly-registered capital worth US$2.7 billion.
Viet Nam has renewed its growth model on the basis of science-technology and innovation, human resources development, digital transformation and green transformation, in an effort to achieve its net-zero emission target by 2050 and become a high-income nation in 2045, he noted.
The Vietnamese minister welcomes foreign investors in general, and those from Hong Kong in particularl to step up investment in the country on the spirit of "harmonious benefits, shared risks".
He hailed the role of Hong Kong in connecting the Guangdong-Hong Kong-Macao Greater Bay Area (Greater Bay Area) with Viet Nam and ASEAN nations, particularly in terms of science-technology, innovation, investment, finance, trade, logistics and transport.
The summit attracted nearly 6,000 government officials, business leaders, entrepreneurs and start-ups from some 70 countries, territories and regions.
This year's summit is especially significant as it marks the 10th founding anniversary of the BRI.
The summit aims to review the achievements and experience of the Belt and Road Initiative and explore opportunities, focusing on promoting high-quality development in areas such as infrastructure, logistics, finance, technology and trade.
It also targets to promote arts and culture of the region and demonstrate Hong Kong's advantage as an important international trade platform for seizing Initiative opportunities.
On the occasion, Nguyen had meetings with Chief Executive of Hong Kong Lee Ka-chiu, United Arab Emirates's Minister of Economy and leaders of businesses and corporations in Hong Kong.