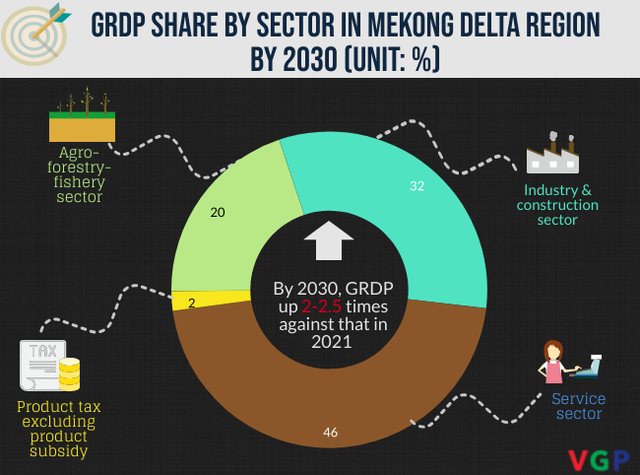 The region comprises Can Tho City and 12 provinces namely Long An, Tien Giang, Ben tre, Dong Thap, Vinh Long, Tra Vinh, Hau Giang, An Giang, Soc Trang, Kien Giang, Bac Lieu, Ca Mau.
The plan targets 6.5% of economic growth rate in the next five years. GRDP is set to expand by 2-2.5 times by 2030 in comparison that of 2021. Agro-forestry-fishery sector will account for about 20% of GRDP, industry - construction about 32%; services about 46%; product tax excluding product subsidy about 2%.
By 2030, the region will house 830 kilometers of highway, 4,000 kilometers of national road, four airports, 13 sea ports, 11 passenger port clusters and 13 inland water clusters of inland waterway cargo ports.
The Mekong Delta region will focus on developing high-quality commodity agriculture, combining with trade, logistics services, eco-tourism, industry, focusing on processing industry, improving the value and competitiveness of agricultural products.

Regarding industrial development, the Mekong Delta will develop industry in a sustainable and environmentally friendly manner, focusing on developing the processing industry and supporting industries to improve the value and health of the people.
By 2030, No new coal-fired power plants will be built except the ongoing coal-fired power plants which are under construction namely Duyen Hai II (Tra Vinh), Long Phu I (Soc Trang), Song Hau I (Hau Giang). Wind power will be developed in Ca Mau peninsula. Power plants capable of flexibly adjusting and storing battery sources to ensure stable operation of the power system with a high proportion of renewable energy sources will be built. Gas power projects in Bac Lieu, Kien Giang and Long An will be put under consideration for construction after 2030./.