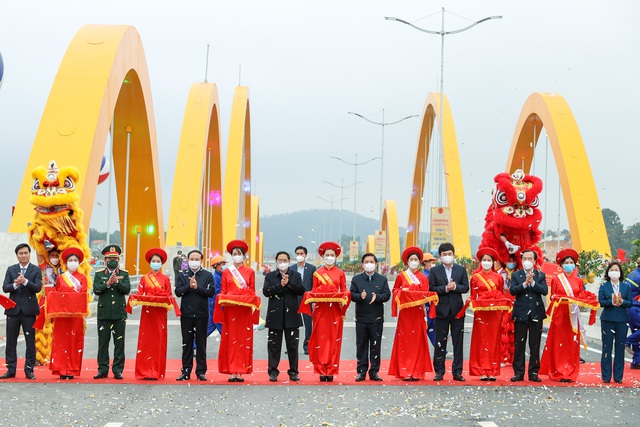 The 4,265-meter Cua Luc 1 Bridge is the first six-lane bridge of Quang Ninh, which was built at a cost of VND 2,100 billion, serving to ease traffic load on Bai Chay Bridge.
The Van Don-Mong Cai expressway worth VND 3,658 billion was officially open to traffic. This is the final section of the 200km Hai Phong-Ha Long-Van Don-Mong Cai expressway route that runs along the province. One end of the section connects with the Ha Noi-Hai Phong expressway and the other links with the connection road of Bac Luan II Bridge in Mong Cai city.
On this occasion, the six-lane Ha Long-Cam Pha coastal road was put into operation with a total length of 18.7km. The project costs VND 2,300 billion sourced from the provincial budget. It is expected to expand the urban and tourism development space for Quang Ninh's economic and tourism hubs of Ha Long and Cam Pha.
Addressing the events, PM Pham hailed the local authorities in improving the infrastructure system, contributeing to attracting more investors to the province and speeding up its economic restructuring towards a faster and more sustainable direction, thus helping to convert its economy from "brown" to "green"./.