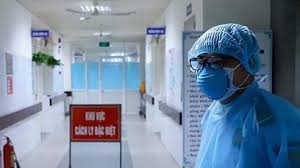 Illustration photo
The move aims to prevent Covid-19 patients to move to central hospitals in order to mitigate the spread of the epidemic, Son said.
He warned that two many people come to central hospitals like those in Ha Noi and Ho Chi Minh City for medical checks may increase the Covid-19 infection rate.
Those who have Covid-19 symptoms can be diagnosed and treated at local medical facilities, he stressed.
In fact, over the past days, two Covid patients have been cleared of the virus and discharged from local hospitals, including one in Thanh Hoa province and one in Khanh Hoa province.
The Ministry of Health confirmed on Thursday that a man in Vinh Phuc province has been tested positive for the virus, raising the total Covid-19 infection cases in Viet Nam to 16, of whom 11 are from Vinh Phuc province.
By Kim Loan