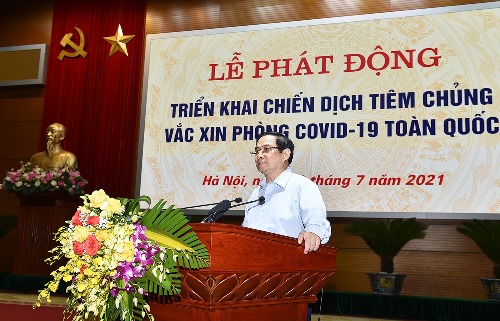 Prime Minister Pham Minh Chinh addresses the launching ceremony of the national COVID-19 vaccination campaign, Ha Noi, July 10, 2021 - Photo: VGP/Nhat Bac
Present at the launching ceremony included Minister of National Defense Phan Van Giang, President of the Viet Nam Fatherland Front Central Committee Do Van Chien, leaders of ministries, agencies and localities, and representatives from Embassies of the U.S., Russia, India, and international organizations in Viet Nam.
Addressing the event, Prime Minister Pham Minh Chinh said this is the largest-ever vaccination campaign which indicates the determination of the Party, State and people of Viet Nam in containing and repelling the pandemic, protecting the public's health, and restoring normalcy, in order to realize the goals set out by the 13th National Party Congress.
As the more transmissible delta variant is now the most dominant strain of the Coronavirus in both Viet Nam and the world, vaccination is considered the most effective solution to get out of the pandemic, according to Pham.
Right from the outset of the pandemic, leaders of the Party, State, relevant agencies and organizations have closely monitored the epidemic situation and put in place prompt and appropriate measures to contain the pandemic and reboot the economy, thereby Viet Nam is one the few countries responding well to the pandemic and experiencing positive economic growth to date.
The country is also determined to successfully realize its vaccine strategy which involves import and transfer of production technology as well as research and development of domestic vaccines in order to secure enough vaccines that are free for our people, said Pham.
From that perspective, multiple measures have been deplpoyed to diversify vaccine supply sources, mobilize financial resources for purchase, research and production of vaccines.
As a result, more than 100 million doses from various sources and providers have been committed for distribution in Viet Nam this year.
The country has received 6,082,310 doses from AstraZeneca, Pfizer/BioNtech, VNVC and donations from foreign governments as of July 9, of these, about 4 million doses of have been administered.
PM Pham ordered subordinate levels to ensure that the vaccination process must be timely, safe and effective.
He took the occasion to thank the frontline forces for their great sacrifices and efforts to protect people's health and Vietnamese people living and working in inside and outsite the country for their support and contributions to the fight against the pandemic.
Pham also extended thanks to international organizations, friends and partners for their valuable assistance to help Viet Nam in this fight.
According to the Ministry of Health, Viet Nam recorded 23,916 domestic cases of COVID-19 in 56 out of 63 cities and provinces since April 27, 2021 when the fourth COVID-19 wave began. Ho Chi Minh City is the current biggest hotspot with 11,415 community infection cases.
The number of recoveries and fatalities are 8,984 and 110, respectively./.
By Thuy Dung