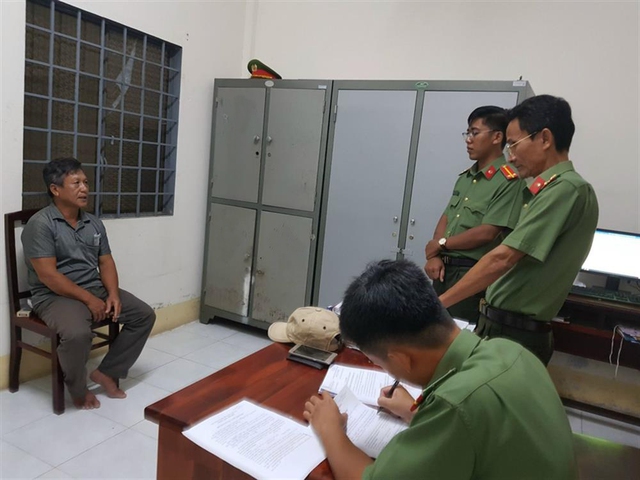 These persons are Tran Van Luyen and Pham Chi Dung, natives of Kien Giang province.

Tran Van Luyen is the owner of fishing vessels arrested by Indonesia's competent agencies on November 16, 2022.

The Ministry of Public Security said it has directed Kien Giang police units to speed up investigations to prosecute other individuals related to the case.
Last week, Prime Minister Pham Minh Chinh tasked the Ministry of Public Security to promptly prosecute those who bring Vietnamese fishing boats and fishermen to infringe upon foreign waters. He ordered the Ministry of National Defense to coordinate with coastal cities and provinces to take drastic actions to put an end to illegal fishing in foreign waters.
Pham also requested coastal localities to coordinate closely with the Ministry of Agriculture and Rural Development to conduct comprehensive inspection of all fishing boats: registered and unregistered boats, boats with expired registration, boats equipped and not equipped with vessel monitoring system (VMS); strictly fines boats that fail to comply with regulations on IUU fishing combat.
The local authorities must strictly monitor all fishing boats sailing to the sea and direct law enforcement forces to strengthen patrol and inspection to timely detect and handle violations.
Localities must regularly and fully update information on its fishing boat fleets on the national fisheries database (VNFishbase); strictly monitor fishing boats entering and exiting fishing ports; strictly supervise loading and unloading of seafood at fishing ports.
The Prime Minister ordered localities to arrange sufficient resources (workforce, finance, and equipment) for competent forces to enhance their capability of combatting IUU fishing.
Pham also called on the Viet Nam Fisheries Society, Viet Nam Tuna Association, Viet Nam Association of Seafood Exporters and Producers (VASEP) and seafood exporters and producers to continue joining hands with the Government in the fight against IUU fishing, and say no to purchase, processing and export of IUU-related products.
Prime Minister Pham called on fishermen to abide by Viet Nam's policies and law and its international commitments to marine environmental protection./.