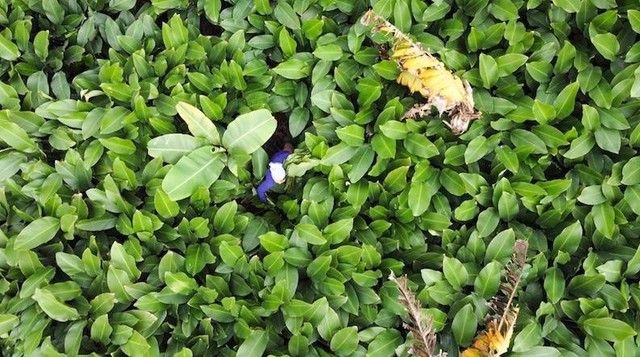 The traditional craft Trang Cat Village is in Thanh Oai District's Kim An Commune, about 30km away from the city centre. The village has been famous for providing dong (Phrynium placentarium) leaves to other localities across the country in more than 400 years.

There are approximately 300 households located in the village. About 90 per cent of the villagers plant the trees on a 25ha area.
Annually, villagers start their largest business since the beginning of January. Here, there and everywhere, people cut the leaves, some clean them and others arrange them in heaps or tie them in a bundle.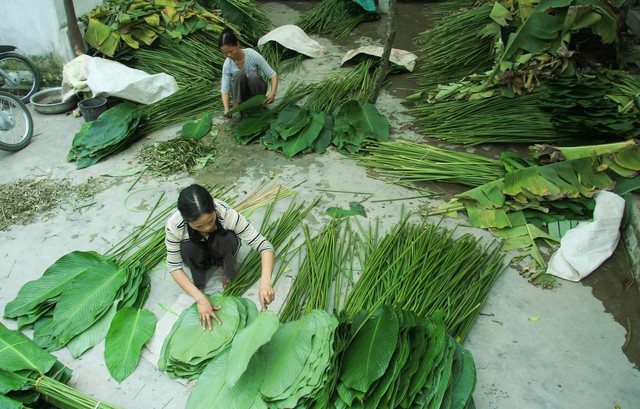 Farmer Phan Thanh Nhan said he cut 3,000 leaves per day. The number was much higher in the rush time. All harvesting activities were by hands and he had to cut leaf by leaf.
"Dong leaves are different from tea or rice which can be cut by a machine. For hundreds of years, farmers in Trang Cat have to collect them manually, both cutting and classifying leaves' size," said Nhan.
"Thank to the fertility of the land located next to the Day river, Trang Cat is an ideal place to plant dong trees which provide greener and larger leaves than trees in the other localities.
"Chung cakes wrapped up with Trang Cat dong leaves have natural bright green colour and a typical flavour of the traditional cakes after boiled," he said.
For weeks, farmer Nguyen Thi Dong and all of her family members have to work hard all days to have enough leaves to meet her customers' demands.
"Our dong leaves are sold all year round but it is really busy at the Tet. Almost villagers have their own dong farms. Normally, one household cuts about 1,000 leaves per day. It will be up to 6,000 in the Tet season.
"The prices are ranging from VND30,000 to VND120,000 per 100 leaves depending on their size and quality. If we have well taken care of the trees, we can earn up to VND50 million per year per 360sq.m," said Dong.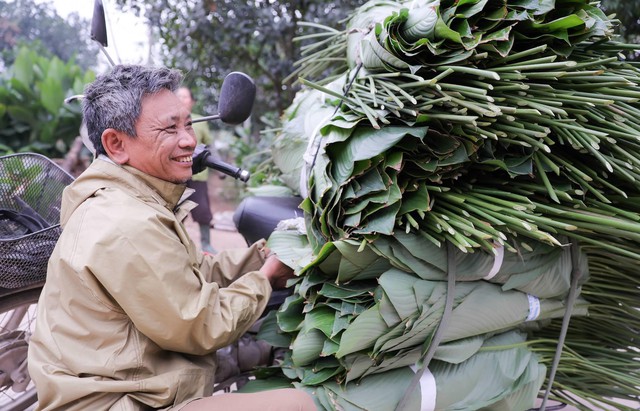 Meanwhile, 62-year-old Phan Thi Ha shared it was very easy to grow and take care of dong trees and the process also took less time than other crops.
"It is kind of planted-once-and-harvested-forever tree as when the leaves are cut, the new ones will grow," said Ha.
"Dong trees don't require much effort, but the farmers had to regularly weed wild grasses so that they will produce more sprouts and green, large and beautiful leaves. The trees provide leaves all year round. Three months after planting, farmers can harvest the first leaves.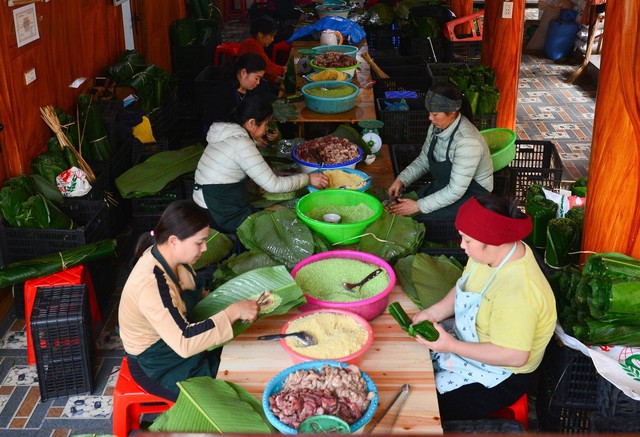 After cut, leaves are bundled and watered to keep them fresh in several days. Then, they are ready for the customers and will be transported to everywhere. The large and beautiful leaves will be used to wrap chung cakes while the small ones are for banh te (steamed rice cake), banh nep (glutinous rice cake), xoi (sticky rice), and pork sausage, not only during Tet but also all year round.
"Farming the dong trees has been practised in Trang Cat for hundreds of years. The work has been passed down from generation to generation. There were ups and downs, but it seems that nothing can replace this rustic leaves in wrapping traditional cakes in general and chung cakes in particular," said Doan Van Huynh, Chairman of the People's Committee of Kim An Commune.
"There was a time when many households switched to grow oranges, but recently they have returned to cultivate dong trees, which they found more suitable for the soil quality, higher productivity and more stable income.
"Moreover, farmers can intercrop dong trees with rice or other vegetables in the same field. In the last two years, the area growing dong has increased by nearly 10ha. Many companies have ordered our leaves to export to other countries for overseas Vietnamese people," Huynh said.
Farmer Mai Van Chuyen just sent thousands of leaves to England. He said Vietnamese people were living everywhere in the world. They also needed dong leaves to wrap chung cakes in the Tet.
"My leaves are shipped to Malaysia, France, Russia and countries in Africa and America too. Vietnamese people there also celebrated the Lunar New Year and kept the tradition of using dong leaves to wrap the cakes will help them and their children remember their roots, their ancestors and the Vietnamese Tet," he said./.