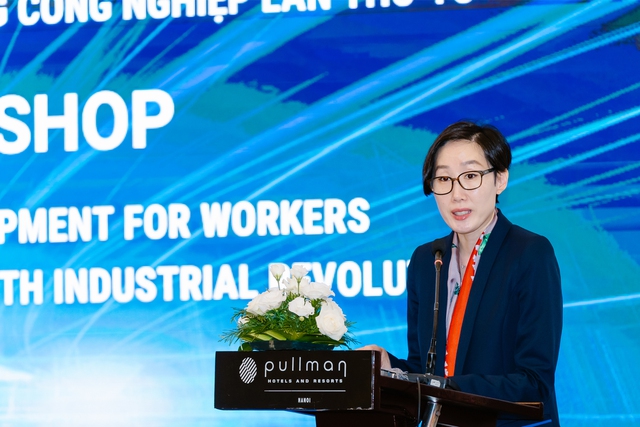 IOM Chief of Mission, Ms. Park Mihyung made the above pledge while attending the workshop on "Leveraging Technical and Vocational Education and Training (TVET) system for Digital Skill development and Skill Mobility in the context of the Fourth Industrial Revolution" which took place in Ha Noi on August 25.
More than 300 high-ranking officials, experts from Government agencies, TVET institutions, educators, embassies, international organizations, and the private sector gathered in person and online for the event.
The IOM in Viet Nam and the General Directorate of Vocational Education and Training (DVET) under the Ministry of Labor, Invalids and Social Affairs completed their 24-month collaboration that promoted free-to-access learning courses via online learning platform "www.congdanso.edu.vn".
The platform attracted more than 15,100 people since its launch and contributed to upskilling of Vietnamese workers, especially migrant workers in the industrial areas.
The workshop provided an opportunity to share reflections after the collaboration, while inviting the international and national experts to share their insight on the priority areas for improvement in skills development of Vietnamese workers, in current rapidly changing labor market context.
The project "Supporting the Government of Viet Nam in the Digital Transformation of Labor through Enhancing Technical and Vocational Education and Training" was implemented in partnership between IOM and DVET, with the support from Viet Nam General Confederation of Labor (VGCL).
Under this project, 31,100-course completions on digital, soft, job application, and entrepreneurship skills were recorded on the platform. Nearly 26,000 certificates were issued by Microsoft for digital literary skills, which attracted the most significant number of users.
Addressing the event, Ms. Park Mihyung said, investing in skills development in Viet Nam is very important. It helps people get better jobs and work more productively, which makes the country stronger in the world economy. That's why IOM takes pride in its work, especially its e-learning platform.
It improves access for low-skilled workers and migrant workers to gain essential skills, such as technical, soft, and digital skills. This reduces their vulnerability, helps them navigate in the digital environment, making them more adaptable and resilient, she added.
The online learning platform is just one of the prime examples of how IOM, the Government agencies, and the private sectors collaborate to create innovative solutions, Ms. Park Mihyung shared./.