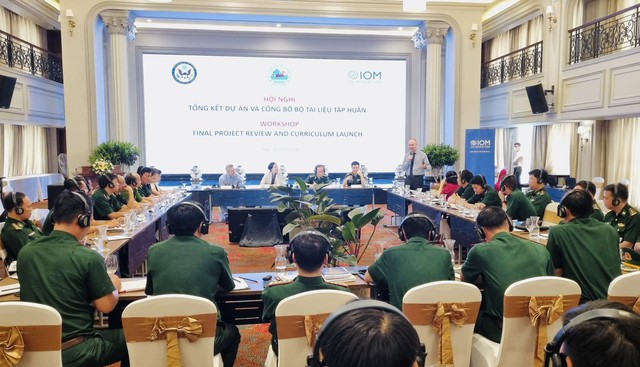 The event was organized by the IOM and the Department of Drug Control and Crime Prevention of the Viet Nam Border Guard.
Within the framework of this project, the training curriculum was disseminated to border guard stations and border guard academies in 12 target provinces and was used to conduct 12 training workshops for 436 frontline Border Guard officers in 12 target provinces in the northern and southern regions.
The project also creates a forum for the officers to exchange effective methods, professional skills and practical experiences that have been successfully applied in retracing, investigating and prosecuting trafficking in persons cases.
Speaking at the event, IOM's Chief of Mission Park Mihyung said that the IOM is very proud to cooperate with the Department of Drug Control and Crime Prevention of the Viet Nam Border Guard to contribute to enhancing capacities of Viet Nam Border Guard officers.
Facilitating safe and orderly cross-border human mobility for migrants, while maintaining border security, supporting border guards' engagement is one of the critical components in IOM's mandate, she added.
This project is a significant part of IOM's work to support the Government of Viet Nam to strengthen its border management, noted Park Mihyung.
It also contributes to the comprehensive effort under the nation's Human Trafficking Prevention and Control Program 2021-2025 and the National Implementation Plan for the Global Compact for Safe, Orderly and Regular Migration (GCM), of which Viet Nam is an active member, she shared.
The project "Frontline training for Border Guards in Border Areas of Viet Nam", funded by the Bureau of International Narcotics and Law Enforcement Affairs (INL) of the US Department of State, was wrapped up on the same day.
After three years of implementation, the project has achieved a number of significant outcomes that profoundly enhanced the technical capacity of Viet Nam's border guards, especially frontline officers in hotspot border areas, to better detect, investigate and handle trafficking in persons cases, as well as identify, protect and assist trafficking victims./.