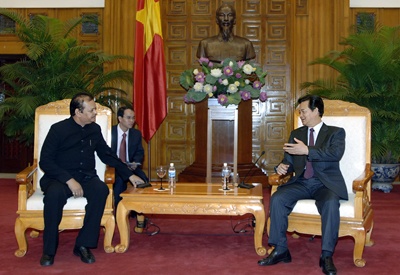 PM Nguyễn Tấn Dũng (R) welcomes Indian Minister of Food Processing Industries Subodh Kant Sahai, Hà Nội, May 19, 2010 – Photo: VGP/Nhật Bắc

During his courtesy visit to PM Nguyễn Tấn Dũng today in Hà Nội, he informed the results of his earlier working session with Minister of Agriculture and Rural Development Cao Đức Phát in which the two sides agreed to spur massive technological applications in agriculture production and food processing in the time to come.

India hopes to consolidate and enhance the bilateral ties with the Southeast Asian country, reaffirmed Minister Subodh Kant Sahai.

PM Dũng called for stronger and greater impulse to concretize the Việt Nam-India strategic partnership.

Both India and Việt Nam are members of the World Trade Organization (WTO), thus they should be active players and boost progress of the Doha round of talks.

Việt Nam, as Chair of ASEAN in 2010, stands ready to refresh the relations between the bloc and India, the host leader stated.

The Government chief urged the two countries' foreign ministries and competent agencies to well prepare for his Indian counterpart's upcoming visit.